Aj & Smart – Design Sprint Masterclass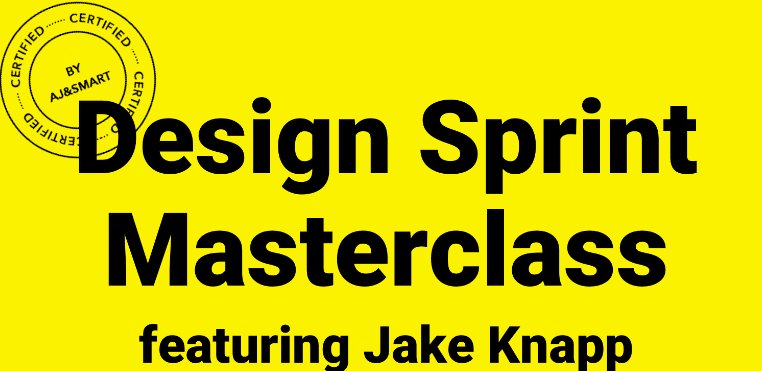 Learn how to run Remote and In-Person Design Sprints like a pro
NEW BONUS: Remote Design Sprint course!
Learn everything you need to know to run a REMOTE Design Sprint with our Remote Design Sprint Masterclass. It's the perfect companion to the Official Design Sprint Masterclass, and you get it for FREE when you register today.
The Design Sprint Masterclass
has everything you need to run your own Design Sprint
Inside the Design Sprint Masterclass, we've put together a package that we wish we had had when we started running Design Sprints! Over the past 3 years, this has been tried and tested with some of the biggest companies in the world. Here's what you will find inside…
Become an Innovation Expert when you learn how to confidently run Design Sprints in your company with 71+ bitesize video lessons
Facilitate every Sprint quickly and easily with the editable Presentation Slides that follow our day-by-day protocol
Wow your team or clients with a great experience using the Sprint Preparation Guide
Amaze your clients with your succinct follow-up where you share all of the results after the 4-day Sprint with the Design Sprint Delivery Template
Impress your colleagues and friends with your official AJ&Smart Design Sprint Masterclass Certification once you complete the course
Quickly validate your prototype and ensure you always have the best user testers with the User Tester Recruitment Guide & Survey
Keep up the decision-making and problem-solving momentum by learning how an Iteration Sprint can impress your colleagues and/or clients
Get the best advice with videos and Q&As featuring Jake Knapp,
the creator of the Sprint
Find out how you could change your career by running your own Design Sprints with our expert "How to Sell" tips and tricks
How Will The Design Sprint Future-Proof Your Career?
The beauty of being able to facilitate a Design Sprint is that you will have tangible soft skills in your toolkit, ready for any future career move or progression. Let me explain…
Skill #1 Facilitation
Facilitation means leading a group to a result. When you develop the skills necessary to lead a group of people without de-focussing or having endless conversations, and come to an actionable outcome at the end of it – you are already doing better than 90% of people (who usually end meetings needing to have another meeting!) 
Skill #2 Design Sprint Expertise
Having Design Sprint expertise means having the skills to guide a group of people through a series of exercises that lead them to a decisive, actionable solution to a problem – with no expertise in the problem yourself ! With these skills, you will immediately stand out to anyone who needs help moving their project forward. People will be queuing up asking you how you did it!  
Who is the Design Sprint Masterclass for?
Product People &
Designers
Do you struggle to align with your team and come to clear decisions when you start a new project?
Team Leads &
Project Managers
Do you get lost in ideas and find it hard to prioritise which tasks would be most valuable to execute?
Consultants
& CEOs
Do you find aligning with clients leads to time wasting calls and meetings where no one is on the same page?
…Then the Design Sprint Masterclass is for YOU! 🎉
This Masterclass teaches you step-by-step how to run a Design Sprint in 4 days
and provides all of the resources you would need to facilitate one!
All you need to do is grab your team or your clients, 
and work through the key problem you are trying to solve!
The ROI of taking the
Design Sprint Masterclass
Statistical data from surveying our Masterclass alumni
4.5 out of 5: The rating our graduates give the
Design Sprint Masterclass
47% surveyed grads have added between $10,000 and $50,000!
4.5 out of 5 say they'd recommend our Masterclass to others
94% are confident that knowing the Design Sprint will further their career
92% of the Masterclass graduates enjoy their work more after learning the Sprint
Here's A Sneak Peek Inside…
Here's an exclusive sneak peek inside the Design Sprint Masterclass. After your purchase you get access to all of the classes immediately and can work through at your own pace.
Here Is Everything We Have Included Inside The Design Sprint Masterclass:
All of the materials included are used 
in the actual AJ&Smart Design Sprint!
Step-by-Step Video Course where you learn the Design Sprint:      Worth €14,957
​Design Sprint Presentation Slides (Editable): Worth €8,500
​The Sprint Preparation Guide:          Worth €4,500
​​User Tester Recruitment Guide:      Worth €10,997
"How to sell" the Design Sprint:         Worth €11,547
​User Tester Recruitment Survey:        Worth €12,799
​​Design Sprint Delivery Template:      Worth €5,250
​​Introduction to the 'Iteration Sprint':  Worth €1,450
​NEW Complete Remote Design Sprint Guide: Worth €3,769