Frame Control and Sexual Themes by Ross Jeffries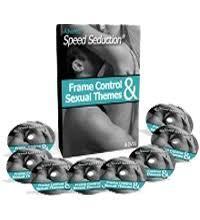 How about videos that teach you brand new, word for word seduction patterns, INCLUDING the "forbidden" Gemini and Dark Sun patterns that induce permanent behavioral change in the women you desire, allowing you to mold them to the exact erotic specifications you require, demand and dream of?
How about 4 different models of Speed Seduction®, explained NOT just by me, but by the actual students who have taken them out into the world and proven them time and again, by exacting, real world experience?
One of the things that makes these videos so unique, is they have an actual teaching structure. That is, unlike previous seminars, where I sort of tend to wander, I sat down, before this seminar, and thoughtfully outlined a metaphorical frame and structure in which to fit all the learning's, presented by all the instructors and students, that makes all the material, and each of the parts, easily absorbed and useful as a whole.
This, more than any other presentation we've ever made, ties things up in a way that allows you to see how each individual tool can be applied in each situation; how it fits in with the overall attitudes, situations, and concepts presented. It is like a road-map that lets you know WHERE you are, where you want to be, and exactly what aspects you need to master to get there. (For those of you who are NLP junkies, you'll see a masterful use of loops, metaphor and other techniques on the part of Mark and myself to make the learning process much more easy and rapid.)
What enabled me to do this is an understanding of the concept of "frames'; the overall guidelines through which you present everything else you do.
I truly believe that understanding how to fit all of your thoughts, actions, responses and ideas with women into the right frame…the frame of NEVER supplicating, begging or "asking", but instead, offering challenges, structuring opportunities and eliciting/evoking processes is the single most important key to making every other tool and "trick" of Speed Seduction® at least three to four times more effective and powerful.
Sure…you can do Speed Seduction® without this understanding. If want to be a perfect "memorizer" of word for word patterns and still have less than fantastic results because you might still be using the patterns in a "supplicating" or "nice guy" structure, that's no skin off of MY nose.
But wouldn't you rather understand how to present it all in a way that makes it much more receivable to the feminine psyche and mind…receivable in a way that just lets it slide right in…deep, deep in…deep into the place where her wildest fantasies spring to life and action, with you?
Frame Control and Sexual Themes : The Four Different Models Of Speed Seduction®:
How And When To Use Each One And How To Know Which One Is Most Appropriate. Why tie yourself to the idea that patterns are simply there to be recited while she goes into trance? There are lots of other ways to make patterns work for you, and I spend hours showing you exactly how. Dynamite stuff you must learn for ultimate SS success and power.
Frame Control and Sexual Themes : Trance-Hi-Jacking By Brother Kamal:
over a full hour of Brother Kamal and I, as he presents and I break down, step by step, his amazing "trance hijacking" methods. Word for word, start to finish, from opening line to making love, exactly what he has done with woman after woman (Includes how he got two beautiful, blonde, British tourists in bed at the same time!)
Frame Control and Sexual Themes : How To Get Laid On AOL Using Speed Seduction®:
SS email list enforcer and my pal, Brother Riker, reveals his detailed, step by step system for picking up and seducing women on America's most popular on-line service America On-Line. I used his methods to pick up an unbelievably, drop-dead bikini model. Don't waste weeks or months making your own mistakes; AOL can be a mine-field of fatties, crazies as well as your own blunders, boners and bash-ups without this valuable advice!
Frame Control and Sexual Themes : How To Create Your Own Seduction Themes To Intrigue And Seduce Women:
I spend lots of time hammering on THEME creation; the overall ideas that allow you to easily flow, in natural conversation from one pattern to the next, with complete easy and flexibility. Master what I teach here and you'll be able to bring up any pattern in any situation and flow to any other without a moment wasted. The ultimate in conversational flexibility, freedom and power.
Frame Control and Sexual Themes : Major Mark On The Psychology Of The Romantic Hero:
do you know what the three qualities of the romantic hero are, that drive women absolutely wild? Mark is sizzling in this presentation, as he not only describes in detail what they are, but assists you in manifesting them in your own unique ways in your life, so women view you as their tasty, wild, nasty indulgence…their "naughty" treat to take on an escape into their own private, erotic world…things that her "borefriend" or "husband" will never experience or know. Damn, the Major is really good…why won't he let me promote him to General?
Frame Control and Sexual Themes : Word For Word Pickup Strategies And Tactics:
including my famous 30 second pick up designed for use when she's with other women and in too much of a hurry to talk! Yep…this is the latest on how to pick up women even, and especially when they are with other women and they are hurried and do NOT have time! Now you can actually make these situations work better for you than when they are alone or time to talk is available. No generalizations here; word for word, specific, exact things to say.
Frame Control and Sexual Themes : The Phone Machine Intruder:
Getting Her To Call You Back Within An Hour Or Two 90% of The Time. My answering machine intruder is so damn good, I have to brag and say it is the single most reliable thing I've ever come up with or described. Here's how to handle with triumphant success, those annoying situations where all you get is a pager, voice mail or answering machine, and can't get to speak to her in person! Using the challenge, opportunity and process frames, this word for word pattern WILL get her calling you back, rapidly…swiftly…even apologizing for not getting back to your sooner! I AM PROUD OF THIS ONE!
Frame Control and Sexual Themes : Major Mark's Resource Generator Induction:
Yet another powerful trance induction by Major Mark that's so…so…damn good, this guy is getting so good, even I can't describe or do him justice. Let's just say he helps create structures deep inside that serve you as you need them, automatically and without conscious thought…so the same-self processes that at one time kept you stuck now keep you running…humming along…in exactly the direction you need to make your seduction dreams a reality. Honestly, if you can stay out of trance for more than 3 minutes when you watch this part, the bad news is: you ain't human!
Frame Control and Sexual Themes : How To Use The Contrast Principle In New Pattern Creation:
here I am teaching even more advanced techniques in pattern construction and creation. Take a peek inside my brain and my thought processes, so you can learn to think like me and create new stuff that fits your own unique situation, personality and style. Learn my creativity strategy and move forward on your own with new stuff that you can show to me!
Frame Control and Sexual Themes : How To Create DEEP Rapport By Asking Structured, Focused Questions:
perhaps one of my favorite trance techniques; because it allows you to experience the joy and pleasure found only in deeply connecting with another human person. Learn to develop deep level understanding, intuition and insight that will lead to the deepest levels of rapport so you can then be as wild, blatant and UN-Sneaky as you like…because she'll be prepared AND ready for it! One of my favorite of the 4 seduction models presented!
Frame Control and Sexual Themes : Ross' "I'm A Hypnotist Model-" For Seduction:
O.k.-I like to use this one, because it is true: I AM a hypnotist. A perfect way to seduce adventurous, excitement-hungry, sizzling hot women who don't want a delicate or "sneaky" approach. I LOVE THIS MODEL!
Frame Control and Sexual Themes : The Brand New, Super-Powerful, "Boyfriend Ignorer:"
…. Forget the Boyfriend "Destroyer". What if you want to enjoy sex with her, but don't WANT to be her "boyfriend"? Here's how to have her keep him around to pay for dates, do her errands , buy her gifts while she comes to YOU for the deeply satisfying sexual relief she needs! The best of both possible worlds! I deserve a medal for this one!
Frame Control and Sexual Themes : New Exercises For Super-Charging Your State And Building New Feelings:
One of the cardinal rules of SS is, YOU HAVE TO GO FIRST. You can expect her to experience thoughts and feelings if you have never had them yourself. You can't lead anyone where you first can't go. These videos reveal different methods and exercises for building new states and feelings that let you lead by example and put the power into your words! Of special note is the famous Kinesthetic Squash, which m any of you have heard on audio but never been able to do, simply because to be duplicated it really has to be seen! You see me take a volunteer and then the entire room through this exercise, which allows you to control sexual excitement so you don't radiate lust in the presence of a stunningly hot woman, but instead exude an even, calm energy that she just naturally seems to like! Vital, vital skill to have, especially if you are aiming at the "super-model" class of woman!
Frame Control and Sexual Themes My review:
Some old stuff but still very useful to understand the basis of speed seduction.
Interesting presentation by Mark Cunningham about the romance novels hero to get a picture of attractive men.
Other guests: Dave Riker, Kamal.
Illustration of change work on students through hypnosis or NLP.
Best thing on the last disc: the gemini pattern chunked down into pieces.
– Download Sample files "Frame Control and Sexual Themes by Ross Jeffries"
Course Requirement: Frame Control and Sexual Themes by Ross Jeffries
Real Value: $434.5000
One time cost: USD62.0000
Frequently Asked Questions For "Frame Control and Sexual Themes by Ross Jeffries"
How to make payment for "Frame Control and Sexual Themes by Ross Jeffries" ?
Please add to cart on this page and go to checkout page.

You can also add as many other products as you like and make a one-time payment.
We accept several type of Stripe payments such as Visa, Mastercard, American Express, Discover, Diners Club, Google Pay, Apple Pay and JCB, payments from customers worldwide. Paypal & Bitcoin please contact us.
Is it safe?
100% Secure Checkout Privacy Policy
Encryption of sensitive data and communication.
All card numbers are encrypted at rest with AES-256 and transmitting card numbers runs in a separate hosting environment, and doesn't share or save any info.
How can we deliver you the course?
How long do I have access to the course?
How to download "Frame Control and Sexual Themes by Ross Jeffries" ?
Enjoy "Frame Control and Sexual Themes by Ross Jeffries" in your account page.
Download only one file at a time. Sometimes doing all of the files at once will lead to them all freezing.
Also, please do not attempt to download to a mobile device. These should be saved to a computer and then synced to devices such as phones and tablets.
You can also learn online instead of downloading, but we encourage you to download for better results and viewing quality during your learn. Lastly, download times are much quicker in the mornings, before noon, Pacific time. during download make sure your device is not sleeping off screen.
What is the refund policy "Frame Control and Sexual Themes by Ross Jeffries"?
We'll Bear The Risk, You'll Take The Results…
Within 30 days of purchased |Frame Control and Sexual Themes by Ross Jeffries  |, if you don't get anything out of the program, or if your order has any problem, or maybe for some reason, you just don't like the way it is. Please contact us and we will do our best to assist. Thank you for your understanding.
Have More Questions?
Our support staff is the best by far! please do not hesitate to contact us at email: [email protected] and we'll be happy to help!
You want to get "Frame Control and Sexual Themes by Ross Jeffries" now right?!!!
YES! I'M READY TO ADD TO CART BUTTON ON THIS PAGE NOW !