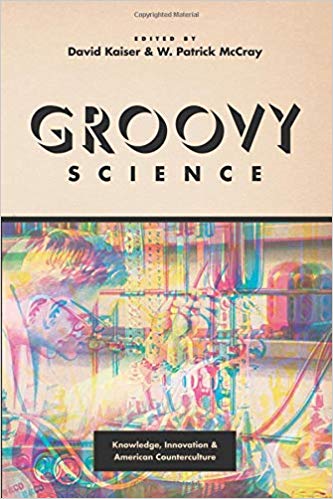 In his 1969 book The Making of a Counterculture, Theodore Roszak described the youth of the late 1960s as fleeing science "as if from a place inhabited by plague," and even seeking "subversion of the scientific worldview" itself. Roszak's view has come to be our own: when we think of the youth movement of the 1960s and early 1970s, we think of a movement that was explicitly anti-scientific in its embrace of alternative spiritualities and communal living.
Such a view is far too simple, ignoring the diverse ways in which the era's countercultures expressed enthusiasm for and involved themselves in science—of a certain type. Rejecting hulking, militarized technical projects like Cold War missiles and mainframes, Boomers and hippies sought a science that was both small-scale and big-picture, as exemplified by the annual workshops on quantum physics at the Esalen Institute in Big Sur, or Timothy Leary's championing of space exploration as the ultimate "high." Groovy Science explores the experimentation and eclecticism that marked countercultural science and technology during one of the most colorful periods of American history.
Get immediately download Groovy Science: Knowledge, Innovation, and American Counterculture
Review
"Kaiser and McCray offer up a kaleidoscope of talking dolphins, manual-toting midwives, plastic surfboards, hip physicists, self-taught cheesemakers, and unlikely gurus whose connections to technical knowledge were not only uncanny, but also essential. Groovy Science reveals that the heart of the American counterculture was scientific as well as psychedelic. It is an important book and a great read."
(Angela N. H. Creager, Princeton University)
"In their edited volume Groovy Science, Kaiser and McCray show that in the 'long 1970s', the young, in creating a counterculture, didn't so much reject science as recreate it. Each essay is a case history on how the hippies repurposed science and made it cool. For the academic historian, Groovy Science establishes the "deep mark on American culture" made by the countercultural innovators. For the non-historian, the book reads as if it were infected by the hippies' democratic intent: no jargon, few convoluted sentences, clear arguments and a sense of delight."
(Nature)
"Long-haired surfers catching waves on handcrafted shortboards at Laguna Beach. Women practicing home births as a form of "spiritual midwifery" on the famous Tennessee commune, The Farm. Psychologist Timothy Leary, "the most dangerous man in America," imploring us to "turn on, tune in, and drop out." These are quintessential images of American counterculture. But Groovy Science will make the reader see them in a surprising new way: as significant scenes of encounter between counterculture and science. By yoking together the words 'groovy' and 'science,' editors Kaiser and McCray refute three durable notions about science in the 1970s: that the counterculture was antiscience, that science was languishing in a rather moribund phase during this period, and that mainstream researchers lived and worked apart from the counterculture that seemed to spurn them. Instead, the 12 essays that make up Groovy Science demonstrate that people and groups strongly ensconced in the counterculture also embraced science, albeit in untraditional and creative ways."
(Science)
"This compendium of individual scholarly articles is a trove of information, and the references are useful and exhaustive….[An] always enthralling archaeological travel guide to an epoch that, although only 40 years old, already feels like an alien continent."
(New Scientist)
"The hippy counterculture of 1970s America was profoundly anti-science. Not so, or at least not always, argue the contributors to this sparkling volume. Proponents of groovy science included Abraham Maslow, the Esalen Institute, John C. Lilly, Timothy Leary, the Whole Earth Catalog, the University of California, Santa Barbara physics department, artisanal cheese makers and, surprisingly, Hugh Hefner. Tune in and turn on."
(Times Higher Education)
"In the late 1960s and 1970s, the mind-expanding modus operandi of the counterculture spread into the realm of science, and shit got wonderfully weird. Neurophysiologist John Lilly tried to talk with dolphins. Physicist Peter Phillips launched a parapsychology lab at Washington University. Princeton physicist Gerard O'Neill became an evangelist for space colonies.Groovy Science is a new book of essays about this heady time!"
(Boing Boing)
Get immediately download Groovy Science: Knowledge, Innovation, and American Counterculture
"When science met the counterculture in the 1960s and 1970s, unusual things happened. The medical researcher John Lilly studied whether dolphins could learn human language. Would-be astronomer Immanuel Velikovsky made widely read claims that a comet had caused biblical disasters. Artisanal food makers founded organic farms, designers built communes with sustainable housing, and materials scientists even revolutionized surfboard manufacturing. All this and more is featured in Groovy Science, a new book from the University of Chicago Press featuring essays from 17 scholars about science's countercultural turn."
(MIT News)
"What was a Cold War scientist? If you think of Dr. Strangelove whooping his way to Armageddon, think again. In this sparkling compendium, some of that time's most creative minds ditch their lab coats and clipboards for sex, psychedelics, and the search for utopia. To watch them is to see the boundaries between science and culture dissolve, and a new, more hopeful vision of the Cold War era appear."
(Fred Turner, Stanford University)
"This collection of essays addressing the relationship between science and technology and the 1960s counterculture provides readers with a series of serious academic analyses that defy the widely held conception that the counterculture movement was, by definition, 'antiscience' and 'antitechnology.' The authors of these essays, most of whom are historians of science or technology, provide insightful information on topics ranging from the 'counterculture curriculum' of the University of California Santa Barbara physics department, to the rise of midwifery as a feasible choice for women rejecting the sterile and unfriendly confines of hospital maternity wards, to the technologies of the artisan goat cheese industry. Although diverse in their respective subjects, essayists commonly argue that many in the American counterculture movement rejected the traditional military-industrial complex control of science and technology, but not necessarily science and technology as a whole. Rather, biologists, psychologists, ecologists, scientists, and technologists of all stripes widely adapted 1970s mores to their respective fields to create a new kind of science—'groovy science.' Highly recommended."
(Choice)
About the Author
David Kaiser is the Germeshausen Professor of the History of Science and professor of physics at the Massachusetts Institute of Technology. He is the author of Drawing Theories Apart, also published by the University of Chicago Press, and How the Hippies Saved Physics. He lives near Boston, Massachusetts.
Get immediately download Groovy Science: Knowledge, Innovation, and American Counterculture
– Download Sample files "Groovy Science: Knowledge, Innovation, and American Counterculture"
Course Requirement: Groovy Science: Knowledge, Innovation, and American Counterculture
Real Value: $50.3000
One time cost: USD30.1800
Frequently Asked Questions For "Groovy Science: Knowledge, Innovation, and American Counterculture"
How to make payment for "Groovy Science: Knowledge, Innovation, and American Counterculture" ?
Please add to cart on this page and go to checkout page.

You can also add as many other products as you like and make a one-time payment.
We accept several type of Stripe payments such as Visa, Mastercard, American Express, Discover, Diners Club, Google Pay, Apple Pay and JCB, payments from customers worldwide. Paypal & Bitcoin please contact us.
Is it safe?
100% Secure Checkout Privacy Policy
Encryption of sensitive data and communication.
All card numbers are encrypted at rest with AES-256 and transmitting card numbers runs in a separate hosting environment, and doesn't share or save any info.
How can we deliver you the course?
How long do I have access to the course?
How to download "Groovy Science: Knowledge, Innovation, and American Counterculture" ?
Enjoy "Groovy Science: Knowledge, Innovation, and American Counterculture" in your account page.
Download only one file at a time. Sometimes doing all of the files at once will lead to them all freezing.
Also, please do not attempt to download to a mobile device. These should be saved to a computer and then synced to devices such as phones and tablets.
You can also learn online instead of downloading, but we encourage you to download for better results and viewing quality during your learn. Lastly, download times are much quicker in the mornings, before noon, Pacific time. during download make sure your device is not sleeping off screen.
What is the refund policy "Groovy Science: Knowledge, Innovation, and American Counterculture"?
We'll Bear The Risk, You'll Take The Results…
Within 30 days of purchased |Groovy Science: Knowledge, Innovation, and American Counterculture  |, if you don't get anything out of the program, or if your order has any problem, or maybe for some reason, you just don't like the way it is. Please contact us and we will do our best to assist. Thank you for your understanding.
Have More Questions?
Our support staff is the best by far! please do not hesitate to contact us at email: [email protected] and we'll be happy to help!
You want to get "Groovy Science: Knowledge, Innovation, and American Counterculture" now right?!!!
YES! I'M READY TO ADD TO CART BUTTON ON THIS PAGE NOW !