Kevin Hogan – Lifestorms – 12 Obstacles to Achievement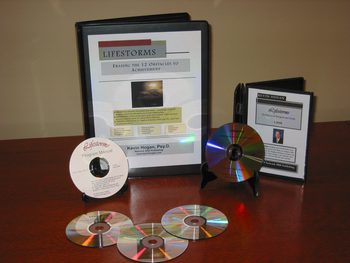 What Will Happen When You Defuse the Sole Cause of Failure?
This program is 100% content and it is densely packed onto just 3 CD's! And, just as importantly, you now get the bonus live video presentation (on DVD) that builds upon the CD program. This exciting presentation was recorded before an enthusiastic audience of over 200 people and you will feel like you are right there with them as you watch.
What Do You Get in this exciting New Program?!:
 Get immediately download Kevin Hogan – Lifestorms – 12 Obstacles to Achievement
3 Digital Audio CDs: Lifestorms: Crushing Self-Sabotage Where It Starts
25 Page Guide/Manual
1 DVD: Lifestorms: The Patterns of Self-Sabotage
Lifestorms: Crushing Self-Sabotage Where It Starts
It happens to everyone. There are 12 (and only 12) nongenetic blueprints for self-sabotage at the unconscious level. That's it. I had 9 of them. No kidding. It took time to knock off each of these forms of self-sabotage. (A lot of time for 9!) I've never met anyone with less than 2 Lifestorms and it only takes one to take the life out of life, to take a would be success story into a lifelong destiny in the hamster wheel.
Each month, for myself, I review ALL 12 of the patterns and eliminate any residue of self-sabotage that exists. Because self-sabotage is nonconscious, no one is aware of it when it is engaged!
The benefit of being able to be in check is being in charge. When the unconscious mind is quelled then the conscious mind can move forward and achieve.
Delve deep into the nonconscious patterns with 3 audio CDS that help you discover why life often brings you exactly what you don't want…and how self-sabotage can hide around every corner.
Some people have guessed at the bizarre nature of self-sabotage. Few people understand it. Guess no more.
Self-sabotage is very real in everyone's life. It is completely devastating and 100% resolvable!
"I first gave Lifestorms a superficial listen, just curious what it was about, and at first I got nothing more out of it than a sense that it sounded cool. But, during the last 5 days, I have found the miracle! Something inside me clicked when I began to thoroughly study the material. I find myself interacting with the world as if I'm a new person. The best part is that this difference, this peace that I can not remember feeling before, this seems to be not from rational, "studied" or "memorized" knowledge, but a sense of freedom, a sense of a huge load falling off my shoulders, which I did not even know was there.
What I have not mastered yet, I now know I will because of Lifestorms (Wow! Finally!) My friend and I, after the first 5 minutes five days ago, ever since that moment we can barely stop ourselves from discussing everything and we are excited to make time every day to study this, and we dislike the moment when we have to stop because we can barely wait to see what else is there!"
Katerina Spillkova, San Bruno, CA
Let me ask you a few quick questions. What the answers reveal is self evident.
Do you ever know you should start on a project but don't?

Do you have projects that you have started but never finished?

Do you ever say the one wrong thing at the wrong time?

Have you ever had things going well in life only to have everything blow up in a day?

Have you tried to be so careful not to make a mistake that you were shocked when you made a truly costly one?

Have you ever promised yourself to stay out of trouble in some way only to find yourself in the same trouble or worse again?
Now you can discover your own life patterns so you can eliminate unconscious self-sabotage immediately.

This program will break the heavy chains that hold you from your dreams and your goals.

This program is the first program ever made public that shows you how to identify specific self-sabotaging behaviors and negative life patterns.

Best? You can ultimately erase those life patterns and rewrite new patterns into your brain that will allow you to meet your goals and experience fulfilling relationships.
Here is what you will learn:
How to identify which of the 12 negative life patterns you live.

How to find the triggers of the lifestorms that you just can't believe you continue to experience.

How to change the self-sabotage into success, happiness or something productive.

How to remove almost all obstacles between you and your goals.

How to understand those around you so you don't push their buttons.

How to predict your behavior and that of others.

How to actually achieve your goals so they are more than just a dream.
Get immediately download Kevin Hogan – Lifestorms – 12 Obstacles to Achievement
There is not one person anywhere who can't utilize every minute of this insightful information. These three CDs are packed with the most powerful tools for getting past life's roadblocks and personal sabotage ever imagined. The accompanying manual is a helpful guide and resource to assist you in your journey of self-discovery. Anyone can utilize this information and I personally guarantee that if you follow the instructions you will not experience self- sabotaging behavior anymore. Your goals become reality at speeds faster than you ever imagined.
Special Bonus: "Live" on DVD! Kevin Hogan reveals the patterns of self-sabotage to help you recognize the ones holding you back!
Lifestorms: The Patterns of Self-Sabotage
No one breaks their diet plan for the day at breakfast time…, or at lunchtime… or at dinner time…. No! The diet plan (for example) breaks down as conscious will is overcome by the nonconscious desire to eat. It's that simple. It happens at night. Usually late at night when most everyone is most vulnerable to the patterns that destroy everything you do. And obviously it's a lot more than just your eating patterns that are affected.
Your love relationships, your jobs, relationships with your co-workers and families – they are all affected. The way you handle money, your obsessions and addictions. How you spend your time – are you on time? Do you respect others? Do you show it? Or do you end up losing that relationship, that job, or that paycheck?
Now you have a video presentation filmed live before 200 people who came from around the world to watch Kevin reveal the specific patterns that cause these nonconscious programs to run and stay running. Without dramatic action, the nine patterns will not change in any meaningful way. Isolating and identifying them in your life and others will help you finally get what you want. This truly eye opening DVD is the introduction to the Lifestorms program.
Whether someone is trying to earn more money, lose weight, stop smoking, get off drugs, or get the girl (guy) of their dreams, this is the answer to identifying what is causing everything to go wrong.
You'll discover the deeply hidden roots of the most elusive forms of self sabotage.
This single video presentation will give you more insight to why people do what they do to screw themselves up than any other video on the planet.
And, it lays the groundwork for changing the patterns of sabotage into patterns of acheivement, wealth, success and happiness.
You didn't install these patterns to yourself.
They were put there for you.
Kevin shows you how to find them and pull the plug.
Lifestorms
Lifestorms are what happen when your Negative Life Patterns trigger Self-Sabotage to keep you 'safe'. This has been your undoing.
Now, however, you are learning the tools to take control.
Think about how some things keep recurring in your life, things that hold you back.
Now that you have an idea (from reading through this information) of where that Self-Sabotage comes from… Imagine what it will mean to you, and to all who come in contact with you, to never be slave to that reaction again. Freedom.
Next, seriously consider your future, both with and without this freedom.
How much is it worth to you to get clear of all the things you do to destroy your life. Think how many $1000s in income are left on the table. Think about what it will mean to the people who look up to you, who often model your patterns — both good and bad.
Now, you've undoubtedly heard that it's possible to change habits and patterns that you've developed over twenty, thirty, forty plus years. And perhaps it is. But to really unplug them and install new patterns takes time.
"If you're serious about designing the life you love, I've made this as easy for you as possible." Kevin Hogan
Just listen to the 3 CDs, packed with everything you need to get total control over your Life Patterns, over a weekend. There's a manual with this product to guide you through the exercises. Then spend a few minutes every day for 45 days to keep tabs on the changes your engineering into your life. It's as simple as that.
Further, take a moment to compare that value to the cost of this simple plan for defeating Self-Sabotage forever.
Get immediately download Kevin Hogan – Lifestorms – 12 Obstacles to Achievement
– Download Sample files "Kevin Hogan – Lifestorms – 12 Obstacles to Achievement"
Course Requirement: Kevin Hogan – Lifestorms – 12 Obstacles to Achievement
Real Value: $147.0000
One time cost: USD32.0000
Frequently Asked Questions For "Kevin Hogan – Lifestorms – 12 Obstacles to Achievement"
How to make payment for "Kevin Hogan – Lifestorms – 12 Obstacles to Achievement" ?
Please add to cart on this page and go to checkout page.

You can also add as many other products as you like and make a one-time payment.
We accept several type of Stripe payments such as Visa, Mastercard, American Express, Discover, Diners Club, Google Pay, Apple Pay and JCB, payments from customers worldwide. Paypal & Bitcoin please contact us.
Is it safe?
100% Secure Checkout Privacy Policy
Encryption of sensitive data and communication.
All card numbers are encrypted at rest with AES-256 and transmitting card numbers runs in a separate hosting environment, and doesn't share or save any info.
How can we deliver you the course?
How long do I have access to the course?
How to download "Kevin Hogan – Lifestorms – 12 Obstacles to Achievement" ?
Enjoy "Kevin Hogan – Lifestorms – 12 Obstacles to Achievement" in your account page.
Download only one file at a time. Sometimes doing all of the files at once will lead to them all freezing.
Also, please do not attempt to download to a mobile device. These should be saved to a computer and then synced to devices such as phones and tablets.
You can also learn online instead of downloading, but we encourage you to download for better results and viewing quality during your learn. Lastly, download times are much quicker in the mornings, before noon, Pacific time. during download make sure your device is not sleeping off screen.
What is the refund policy "Kevin Hogan – Lifestorms – 12 Obstacles to Achievement"?
We'll Bear The Risk, You'll Take The Results…
Within 30 days of purchased |Kevin Hogan – Lifestorms – 12 Obstacles to Achievement  |, if you don't get anything out of the program, or if your order has any problem, or maybe for some reason, you just don't like the way it is. Please contact us and we will do our best to assist. Thank you for your understanding.
Have More Questions?
Our support staff is the best by far! please do not hesitate to contact us at email: [email protected] and we'll be happy to help!
You want to get "Kevin Hogan – Lifestorms – 12 Obstacles to Achievement" now right?!!!
YES! I'M READY TO ADD TO CART BUTTON ON THIS PAGE NOW !