To reclaim a sense of well-being and bring back your strength, focus, and stability to optimal levels, it's important to work in harmony with the elements that exist within you and around you during each season.
---
Bruce Frantzis – Five Elements Virtual Workshop: The Metal Element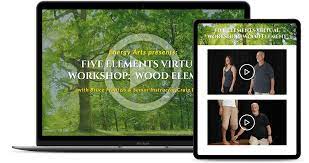 A PERSONAL INVITATION FROm BRUCE Frantzis
Explore how qigong and taoist Meditation can help you embody a fuller, happier, and healthier Life.
Without a doubt, 2020 has been the near definition of living in "interesting times." Almost everyone has felt the emotional and physical effects due to a dramatic surge in uncertainty, anxiety, confusion, and even despair.
To reclaim a sense of well-being and bring back your strength, focus, and stability to optimal levels, it's important to work in harmony with the elements that exist within you and around you during each season.
Working in harmony with the elements has always been a hallmark of traditional Taoist energy work and a way of boosting a practitioner's health and performance to their full potential. Chinese medicine and cosmology recognize five key elements: Water, Wood, Fire, Earth, and Metal.
When the metal energy is strong and balanced in your body, you have the increased ability to remain focused in spite of the changing world around you, persevere regardless of unstable circumstances, and drastically decrease anxiety/fear.
In order to help you achieve these levels of stability and strength, I will be introducing you to the most essential metal element practices. These practices include using Taoist standing postures (including "San Ti" or "The King of Postures"), Taoist sitting meditation, and basic movement exercises rooted in the internal martial arts of Hsing-I and I Chuan. These teachings are appropriate for all ages and levels of ability.
The purpose of this special elemental virtual workshop is to give you practical tools to work with the energy of the metal element in ways that support a body and mind that is clear, stable, and strong. These qualities in turn create an internal landscape of stability and calm even when the external world can seem out of control.
This Five Elements Virtual Workshop will take place over the course of one weekend and will include follow-up practice exercises to help you integrate everything you just learned.
Here is what we'll be covering together
in the upcoming Five Elements Workshop:
Introductory Quickstart Session:
Immediate Access to a 60-minute, pre-workshop training taught by Master Frantzis.
November 13 – 15, 2020:
3-Day Virtual Workshop including over 10 hours of teachings, taught live by Master Frantzis and Senior Instructor Craig Barnes.
November 17-19, 2020:
3-Days of Guided Practices includes three guided practice sessions to implement and carry forward everything you learned during the weekend workshop, led by Senior Instructor Craig Barnes.
During this workshop, you will receive Live lessons taught by expert trainers. you will also receive recordings and lifetime access.
Even though times have been challenging for all of us recently. I am very pleased to have the opportunity to connect and train with you all this autumn.
Working with the energy of the current season is not only a healthy practice in the moment, but it also allows you to set the stage for fully harnessing the energy and positive potential of the next season and year. In this case, fortifying your system to embrace the water of winter flowing into a new year with ease and strength.
In appreciation,
Bruce Frantzis and Craig Barnes
P.S. Full digital recordings will be provided to attendees after each live-stream training for a practice and review reference. These recordings are downloadable and yours to keep forever.
Click Here to See the Offer & Join Us Now
"One of the greatest secrets of Qi(Chi) practices is that, no matter what your age or health condition when you start, you can improve and keep improving."
– Bruce Frantzis
WHAT MAKES FIVE ELEMENT TRAINING UNIQUE?
Enrollment for the Five Elements Workshop is NOW Open.
Taoist and Chinese masters throughout the ages have deeply understood the importance of remaining in balance and harmony with the Five Elements. This virtual workshop will help you take the first steps in working with the metal element this season to achieve true balance and stability. You'll be learning from world-class teachers, be supported by a global community of practitioners, and will be absorbing the entire experience through a live-stream learning platform that captures all the subtle details.
energy arts events senior instructor craig barnes demonstrates tai chi movement
EXPERT INSTRUCTORS
Authentic Knowledge
Learn from an internationally recognized lineage master and author with 50+ years of experience teaching thousands of students around the globe.
REALTIME SUPPORT
Worldwide Community
Take advantage of the encouragement and support of practicing along with hundreds of students as you learn from practitioners with decades of experience.
WORLD-CLASS LEARNING
A Multimedia Digital Experience
Experience the ease and comfort of learning from your home with multiple camera angles, clear audio, and live Q&As. It's the next best thing to attending in person!
"A huge thank you for this online access. It's making a substantial and positive change to my life, and I'm beyond impressed by the dedication, energy, patience and just general good-naturedness of everyone at Energy Arts." – Holly H.
WHAT YOU'LL BE LEARNING
Access 10+ Hours of Live and Downloadable Teachings
The Power of Qigong Standing Postures
Standing postures are one of the most effective and powerful ways to develop your Yang Chi and inner strength. Standing postures are the key to experiencing mind and body unification, and are crucial to learn because they help lay the foundation for all other neigong practices to come. During this training you will learn:
The most important standing postures that you can incorporate into your practice
How to identify where in your body you are stuck and out of alignment
Why this is the most effective and simplest way to identify your chi
How to use standing postures to open up specific energetics within the body
How to build and balance your chi with standing practices
Taoist Meditation & Connecting to the Metal Element
Using Taoist meditation to connect with the Metal element is a unique practice that is designed to enhance the continuity of the mind. When the mind and awareness are developed in this way your ability for sustained focus, critical thinking, and productive emotional expression are significantly increased. During this training you will learn:
How to recognize and work with the energy of the Metal Element
How to become more present and as a result begin bringing more joy into your life as well as strength and focus into your life
Taoist meditations to encourage emotional balance and resiliency
How the metal element can help you become more connected to your body, breath, and energy(chi)
How to overcome and move through anxiety, stress, and uncertainty
MEET YOUR INSTRUCTORS
Enrollment for the Five Elements Fall Workshop is NOW Open.
Bruce Frantzis
Bruce Frantzis is the Founder of Energy Arts and has been called the foremost Western expert in Wu style tai chi and Yang style tai chi, holding direct lineages from China. He teaches six powerful qigong sets, as well as bagua zhang and hsing-i from the martial, health, and meditation perspectives. His passion is teaching the Taoist meditation tradition, a direct path to awakening your highest potential.
Craig Barnes
Craig Barnes is a Senior Instructor in the Energy Arts system and has been practicing and teaching tai chi, qigong, meditation, and the internal arts for over 30 years. He has studied actively with Master Frantzis since 1987 and has taught his own courses all over the world. He is one of only a few instructors who have been authorized by Master Frantzis to certify instructors in his system. Craig is known for his gentle yet thorough approach, and his ability to present complex material in a direct way that makes it come to life and take root.
The Five Elements
Fall Workshop
November 13-15, 2020
Learn to Feel and Develop the Metal Element
Over the course of this weekend workshop, Bruce will be teaching you how to work with metal element energy by using standing postures, basic movement exercises, and Taoist meditation. You'll be learning about the nature of the metal element and also how to apply it to your life and practice. Teaching will be also be supported by senior instructor Craig Barnes.
Teaching Schedule:
Friday, Nov. 13 6pm – 8pm Mountain Time
Saturday, Nov. 14 – 9am – 3pm MT w/ a 2hr lunch break
Sunday, Nov. 15 – 9am – 3pm MT w/ a 2hr lunch break
November 17-19, 2020
Solidify your Understanding with Guided Practices
During three follow-up guided practice sessions you'll be able to clear up any lingering questions and solidify what you've learned. The very best time to do this is when the lessons from the weekend are still fresh in your body and mind. These sessions will be led by Senior Instructor Craig Barnes.
Guided Practice Schedule:
Tuesday Nov. 17, 10am – 10:45am Mountain Time
Wednesday Nov. 18, 10am – 10:45am MT
Thursday Nov. 19, 10am – 10:45am MT
Five Elements Virtual Workshop
HERE IS WHAT YOU'LL RECEIVE
1.Instant Access to the Workshop Quickstart Session [~60+ Minutes]
You will receive instant access to preliminary practices and course material immediately after registration. Prepare for your upcoming workshop with Master Frantzis as he gives you the instructions and skills to practice right away.
2.Weekend LIVE Training with Bruce Frantzis [~10+ Hours]
Receive direct teachings from Master Bruce Frantzis over the course of three consecutive days. Each session will be taught live and you will receive downloadable recordings of each session so that you can re-watch and integrate the teachings over time.
3. LIVE Guided Practice Sessions – Follow Along with Craig Barnes [~2+ Hours]
After the weekend workshop, you will also have access to three guided practice sessions during the week to review and integrate what you have learned. These practices will occur on Tuesday, Wednesday, and Thursday mornings (MDT) with Senior Instructor Craig Barnes. These classes will afford greater intimacy and interaction if you have questions.
4. Energy Arts Training Forum Access
Get access to the private Energy Arts Training Forum that is only for current students of our programs. Connect with other people on the course and stay in touch with the global Energy Arts community.
5. Private Membership Site for Downloadable Access to the Videos and Mobile Viewing
You will be able to login to a private member area where you can watch or download all of the current videos to get lifetime access. You can also download the mobile app so that you can watch the practice sessions as you travel or if you are practicing outdoors.
Here's What You'll Get in Bruce Frantzis – Five Elements Virtual Workshop: The Metal Element

– Download Sample files "Bruce Frantzis – Five Elements Virtual Workshop: The Metal Element"
Course Requirement: Bruce Frantzis – Five Elements Virtual Workshop: The Metal Element
Real Value: $167
One-time cost: USD 50
---
Frequently Asked Questions For "Bruce Frantzis – Five Elements Virtual Workshop: The Metal Element"
How to make payment for "Bruce Frantzis – Five Elements Virtual Workshop: The Metal Element"?
Please add to the cart on this page and go to the checkout page.

You can also add as many other products as you like and make a one-time payment.
We accept several types of Stripe payments such as Visa, Mastercard, American Express, Discover, Diners Club, Google Pay, Apple Pay, and JCB, payments from customers worldwide. Paypal & Bitcoin please contact us.
Is it safe?
100% Secure Checkout Privacy Policy
Encryption of sensitive data and communication.
All card numbers are encrypted at rest with AES-256 and transmitting card numbers runs in a separate hosting environment, and doesn't share or save any info.
How can we deliver the course?
How long do I have access to the course?
How to download "Bruce Frantzis – Five Elements Virtual Workshop: The Metal Element"?
Enjoy "Bruce Frantzis – Five Elements Virtual Workshop: The Metal Element" on your account page.
Download only one file at a time. Sometimes doing all of the files at once will lead to them all freezing.
Also, please do not attempt to download to a mobile device. These should be saved to a computer and then synced to devices such as phones and tablets.
You can also learn online instead of downloading, but we encourage you to download for better results and to view quality during your learning. Lastly, download times are much quicker in the mornings, before noon, Pacific time. during download make sure your device is not sleeping off the screen.
What is the refund policy "Bruce Frantzis – Five Elements Virtual Workshop: The Metal Element"?
We'll Bear The Risk, You'll Take The Results…
Within 30 days of purchasing "Bruce Frantzis – Five Elements Virtual Workshop: The Metal Element", if you don't get anything out of the program, or if your order has any problem, or maybe for some reason, you just don't like the way it is. Please contact us and we will do our best to assist. Thank you for your understanding.
Have More Questions?
Our support staff is the best by far! please do not hesitate to contact us at email: [email protected] and we'll be happy to help!