ConversionWise – Conversion Rate Training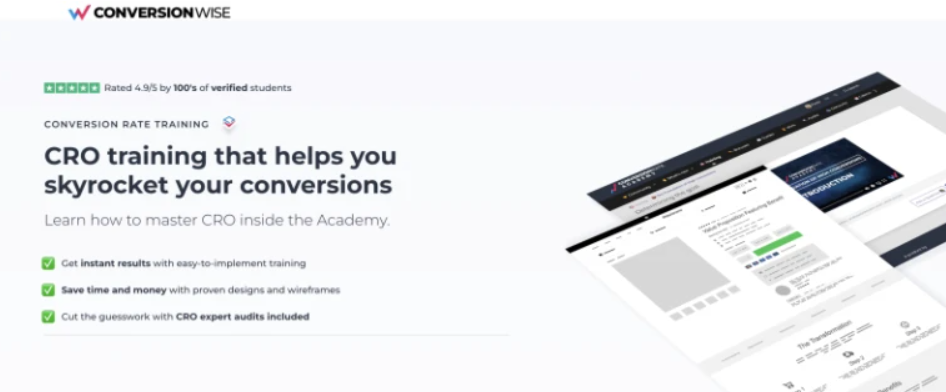 Unlock the secrets to skyrocketing your website's conversion rates with the ConversionWise training program. Dive deep into the world of high-performing landing pages, and equip yourself with the tools and knowledge to transform your online presence. 
Whether you're a budding entrepreneur, a seasoned marketer, or someone looking to enhance your digital skills, this course is tailored to help you achieve tangible results.
Course Modules:
Comprehensive Video Lessons:

 Grasp the intricacies of crafting high-converting landing pages through our step-by-step video tutorials. From the basics to advanced strategies, our lessons are designed to be easily digestible, ensuring you grasp each concept thoroughly.

Interactive Presentations & Quizzes:

 Reinforce your learning with engaging presentations that break down complex topics. Test your knowledge and retention with quizzes, ensuring you're always on top of your game.

The Ultimate Conversion Rate Checklist:

 Navigate the world of conversion optimization with confidence. Our detailed checklist serves as your roadmap, guiding you from the foundational stages to the optimization nuances.

Exclusive Expert Audits:

 Our experts will deep-dive into selected sites every Tuesday, offering in-depth audits. Gain actionable insights and recommendations to refine your web pages, ensuring they're primed for maximum conversions.

Proven Wireframes at Your Fingertips:

 Why reinvent the wheel when you can leverage proven strategies? Access our curated collection of wireframes, showcasing the optimal layout and flow to drive conversions and boost profits.

Design Assets Galore:

 Elevate the aesthetics of your projects with our expansive library. We've got you covered from contemporary fonts and captivating icons to expressive emojis and trust seals.

Weekly Interactive Calls:

 Engage in enriching discussions with our seasoned experts. Have your burning questions addressed in real-time, and gain exclusive insights from industry leaders who grace our sessions with their expertise.
Why Choose ConversionWise?
Actionable Insights:

 Every module is designed to provide actionable strategies you can implement immediately, ensuring you see results in real time.

Expert Guidance:

 Our team comprises industry veterans who bring years of experience to the table. Benefit from their insights and avoid common pitfalls.

Community Engagement:

 Join a community of like-minded individuals. Share, learn, and grow together as you embark on your conversion optimization journey.

Resource-Rich:

 From design assets to wireframes, we ensure you have all the resources you need at your fingertips, saving you time and effort.
Embark on a transformative journey with ConversionWise and watch your conversion rates soar. Enroll today and redefine your digital success!