IYCA – Ultimate Jump Training

Discover How To Take Your Athletes' Game
To The Next Level By Developing The Explosiveness,
Stability and Mobility That Transfers Right To The
Field or Court
Dear Coach:
Are you making the same training mistakes that most coaches make?
You spend hour upon hour in the weight room getting strong, and you devote very little time to mastering athletic movement skills. You work hard on off-season strength training trying to "bulk up" to get that extra edge on game day.
You might even be using some cone drills, box jumps, or running suicides.
But going through all of this still leaves a big piece missing…
To bring the best out in your athletes, you need to make sure your approach to improving your athletes' performance addresses the movement demands of actually performing—not just being a weight room superstar.
So if you coach…
Basketball players who want to jump higher
Volleyball players who want to prevent knee and ankle injuries
Football players who want to explode off the line
Baseball players who want to throw and hit harder
Soccer players who want to change direction quicker
Tennis players who want to cover more ground on the court
Lacrosse players who want to develop an explosive first step
Track athletes who want to run faster
The answer is the IYCA's Ultimate Jump Training Program.
The IYCA's Ultimate Jump Training Program is a resource for coaches who want to improve their athletes':
Get immediately download IYCA – Ultimate Jump Training
Movement Skills
Explosiveness
Mobility & Stability
Injury Resistance
And the best part?
Ultimate Jump Training is designed to be used on the court or field, so you can integrate it into your practice as part of your strength and conditioning program if you don't have the time or means to get to a weight room.
Join IYCA Expert and recognized sports performance coach C.J. Easter as he gives you an inside look into the exact training methods and specific exercises that he uses to coach hundreds of young athletes and that allowed him to play football both at Stanford and at the professional level.
Unlike other jump-based programs that consist of 500 squat jumps and 1000 calf raises, Ultimate Jump Training is grounded in proper strength training principles.
The program allows coaches who might not have access to a weight room to increase stability and mobility and progressively overload their athletes to prevent injuries and become more explosive.
Learn Everything You Need to Know About Jump Training to Make Your Athletes Faster, More Explosive, and Bulletproof!
Before becoming a certified strength and conditioning specialist, C.J. Easter learned from the best performance coaches in the industry as a student-athlete at Stanford University.
As he began coaching and running his own sports performance business, he realized that most youth and high school coaches didn't have the budget or access to the type of equipment that was available at a top flight university like Stanford.
But C.J. realized that despite the lack of money and facilities, the core principles of professional and collegiate level strength and conditioning programs could be translated to the youth and high school level with no equipment.
CJ Easter 1
Here's what other coaches have to say about his no-equipment training systems…
"C.J. Easter is one of the rising stars of athletic performance coaching. His track record of success, and his outstanding programs reveal themselves in the athletes he is able to develop. This is no accident, no coach is more well versed in the science of performance training, nor driven to be better than C.J. For this reason, anything that C.J. puts together is required reading/viewing for me and my coaches."
Coach Wil Fleming
"I used the XFT system to do a 3 day conditioning camp last summer for rec league football players. I continued to use aspects of the system for my teams dynamic warm-up period during the season. The season ran approximately 10 weeks and the biggest improvements I noticed were with the linemen. Their footwork and overall mobility were night and day difference by season's end. In addition, I have used the XFT with my 11 year old son throughout the year and he is definitely faster, but more impressive is the enhanced ability to decelerate and accelerate from a variety of change of direction drills. The system is great, thanks!"
Coach Terry Boise
"Coach Easter does a great job detailing some time-tested effective methods for developing speed. I have used these techniques with great success with my athletes and hopefully will get to see Coach Easter teach on the west coast. I highly recommend coach athletes products if you want to use what works."
Coach Jimmy Lamour
"I would say that your program has enhanced and confirmed what we do here at Wauconda. Where we battle the athletes that look other places, we have a a sound system with the XFT to train our athletes throughout our sports teams. We have gotten people on the same page and are training our athletes with a purpose and kids are seeing results. Thank you for putting it together in a teachable way that we can teach others."
Coach Rudy
Get immediately download IYCA – Ultimate Jump Training
"We've included much of the XFT Speed System throughout our offseason program. It's a great resource of information and drills that have resulted in our players being quicker and more explosive. It's a great system! Thanks coach. It's a great product."
Coach Daniel Ellis
"Coach Easter's XFT system has a direct impact on our football program and wrestling program. Since we have started using the XFT system it has been great to watch how our players have progressed athletically and get better with every workout. Our players have benefited from the XFT workouts with respect to speed and explosiveness while I look forward to continuing to learn from Coach Easter as he develops new products and posts videos with great information, drills, and techniques."
Coach Ben Burk
What's Included in Ultimate Jump Training?
6-Weeks of Done-For-You Jump Programming
No equipment is needed, and all the programming is included, so all you have to do is plug and play this system today
Proper progressions provided for every movement, so you can challenge your best athletes while not leaving other athletes behind
Great for in-season use when you just don't have time for strength and conditioning
Perfect complement for your existing strength program to translate strength to more explosive movement
Complete Jump Training Exercise Video Library
Over 100 jump training exercises
Never-before-seen multi-directional and unilateral movements
Every exercise is demonstrated from start to finish with every coaching cue that you need so you can be confident implementing this system today
Here's What You'll Get in Ultimate Jump Training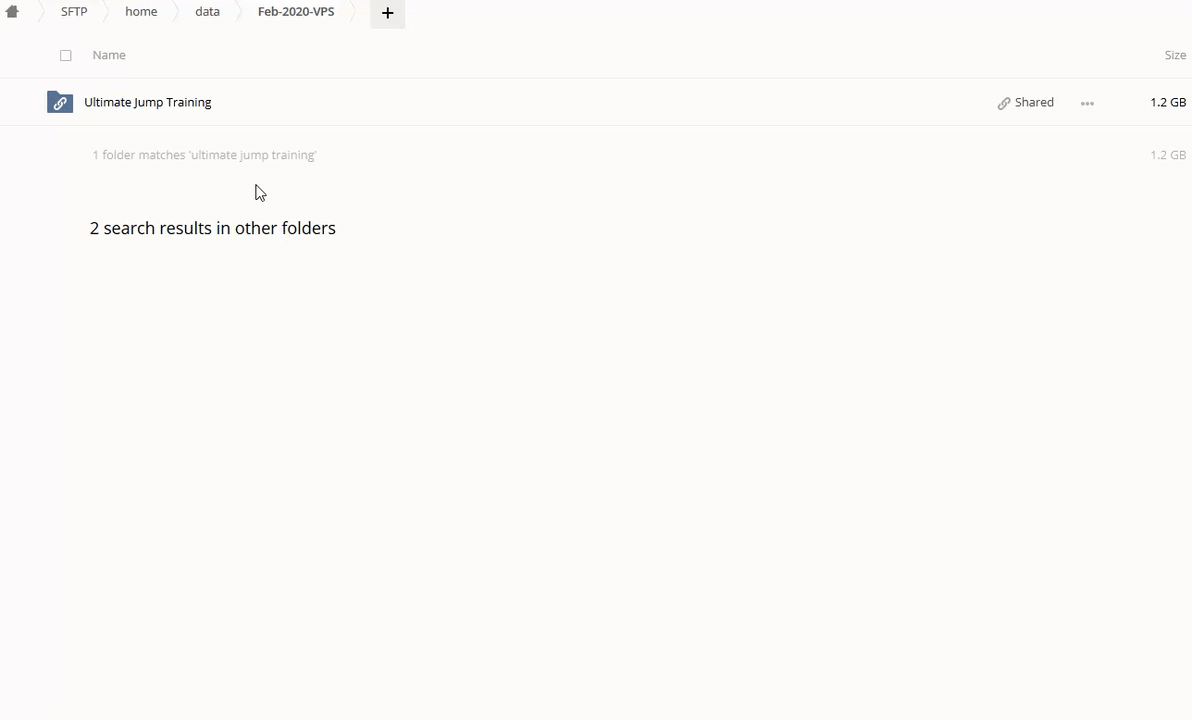 – Download Sample files "IYCA – Ultimate Jump Training"
Course Requirement: IYCA – Ultimate Jump Training
Real Value: $99.9500
One time cost: USD32.0000
Frequently Asked Questions For "IYCA – Ultimate Jump Training"
How to make payment for "IYCA – Ultimate Jump Training" ?
Please add to cart on this page and go to checkout page.

You can also add as many other products as you like and make a one-time payment.
We accept several type of Stripe payments such as Visa, Mastercard, American Express, Discover, Diners Club, Google Pay, Apple Pay and JCB, payments from customers worldwide. Paypal & Bitcoin please contact us.
Is it safe?
100% Secure Checkout Privacy Policy
Encryption of sensitive data and communication.
All card numbers are encrypted at rest with AES-256 and transmitting card numbers runs in a separate hosting environment, and doesn't share or save any info.
How can we deliver you the course?
After you pay for "IYCA – Ultimate Jump Training" on our library, please follow the download links in your account page here: |IYCA – Ultimate Jump Training |
In some case, the link is broken for any reason, our supporter will renew the download links and notify to your email within a few hours business day. Your patience is appreciated.
How long do I have access to the course?
 How does lifetime access download?
After enrolling, you have unlimited download to this |IYCA – Ultimate Jump Training|  for as long as you like – across any and all devices you own.
How to download "IYCA – Ultimate Jump Training" ?
Enjoy "IYCA – Ultimate Jump Training" in your account page.
Download only one file at a time. Sometimes doing all of the files at once will lead to them all freezing.
Also, please do not attempt to download to a mobile device. These should be saved to a computer and then synced to devices such as phones and tablets.
You can also learn online instead of downloading, but we encourage you to download for better results and viewing quality during your learn. Lastly, download times are much quicker in the mornings, before noon, Pacific time. during download make sure your device is not sleeping off screen.
What is the refund policy "IYCA – Ultimate Jump Training"?
We'll Bear The Risk, You'll Take The Results…
Within 30 days of purchased |IYCA – Ultimate Jump Training  |, if you don't get anything out of the program, or if your order has any problem, or maybe for some reason, you just don't like the way it is. Please contact us and we will do our best to assist. Thank you for your understanding.
Have More Questions?
Our support staff is the best by far! please do not hesitate to contact us at email: [email protected] and we'll be happy to help!
You want to get "IYCA – Ultimate Jump Training" now right?!!!
YES! I'M READY TO ADD TO CART BUTTON ON THIS PAGE NOW !