Jeremy Olson – App Making – Designing & Marketing Successful Apps – The Guide + Extras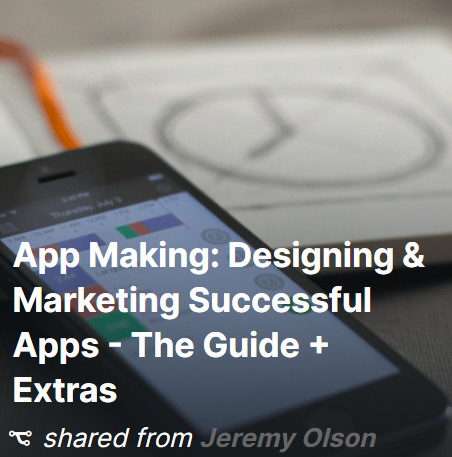 Would you like to dominate the App Store?
All three of my apps, Grades, Languages, and Hours reached #1 in their category. There are repeatable steps to success in the App Store and that is what this guide is all about.
Would you like to get featured in all these places?
Our apps have and I will teach you exactly how I did it (without a PR department).
Introducing the definitive non-technical guide to app design & marketing
Learn through a combination of video and text lessons, actionable to-dos for each section and interviews with top app makers.
Taught by Apple Design Award winner Jeremy Olson
Jeremy has been building apps for five years as the founder of Tapity. He is joined by 10 top app designers, developers, and journalists to show you how to succeed.
The Guide + Extras
Video Lessons – 6 hrs
Step-by-step Instructions
Visual Design 101 Tutorials
Hear from the experts on each topic (clips from interviews with 8 app makers and journalists)
9 Resources, including my Hours pitch template, sample press kit, and press lead sheet template.