I don't know about you, but that's not my jam. The only thing that has ever worked for me is consistency and putting in the work.
---
Karin Dimitrovova – THE CORE PLAY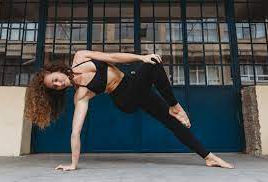 I don't know about you, but that's not my jam. The only thing that has ever worked for me is consistency and putting in the work.
Route to every dream consists of small steps that get you there and if anyone claims otherwise, you should probably run (or go and waste your time and money).
Imagine If You Could..
Have the strength to do arm balances, handstands and other challenging positions
​Move through asana transitions effortlessly
​Feel inspired in your practice and confident in yourself
​​Have the energy to tackle the day and feel refreshed…
You Might Relate..
When I first started my yoga practice, I was absolutely mesmerized by the graceful and fluid movements of my yoga teachers at that time. They were moving so effortlessly and with such ease, while I was huffing and puffing somewhere in the back row.
And let's not even talk about trying harder poses, such as various arm balances, headstands or handstands. These were simply not happening, no matter how hard I tried.
With more and more time spent on the mat, I started seeing great benefits that the regular practice brought me – mental clarity, relaxed attitude, a level of ease. But I also knew I wanted MORE in terms of my body.
A Quick Reminder..
As a yoga teacher I feel obliged to remind you that yoga is not the journey of the body, it's the journey within. Yoga is simply not just about the asana, the exercise, the body. But in order to soften and drop in, the body needs to be strong and agile.
And if you're anything like me, you enjoy challenging things. You want to be able to do arm balances, handstands and maybe even dip your toes into other cool practices – like "animal style" type of movement or light acrobatics.
You simply want to feel STRONG and CAPABLE!
It Finally Hit Me..
I must admit here, I was a bit stupid. Even though I knew yoga was not designed for strength and flexibility (it's a BYPRODUCT, not a GOAL), I still thought that going to random yoga classes is going to help me achieve the goals. After all, there are yogis on Instagram that do some crazy stuff.
Well, let me burst the bubble, if you're in the same place I was. Those people are training for their SKILLS. Regular yoga classes simply don't cut it.
Things changed for me when I got fed up enough with not seeing any progress that I went on a hunt for teachers that would help me achieve my goals.
After being given a structured plan to follow, I started to finally see my strength and flexibility increasing. How so? Because I was finally training for it. I was able to move through asana transitions more smoothly, arm balances started feeling stable and my handstands were no longer a joke.
HEY, YOU, LET ME INTRODUCE MYSELF!
I'm Karin Dimitrovova, Yoga & Movement Teacher, and I created the program "THE CORE PLAY" for people just like you.
Movement is my passion. But it hasn't always been like that. I spent plenty of years doing boring stuff and thinking that "the grind" is the only way to go.
Things changed for me when I stopped resisting and instead started following what I actually liked doing.
That's why I created this program, that combines my love for yoga and other types of movement practices, such as "animal flow" and handstand training. I found this combination to be the most effective because "enjoyment" is at the forefront of my journey. I believe that if you don't like what you're doing, you will never do it.
Does It Sound Familiar?
I wanted to be strong and be able to do all the things I saw others doing around me
(yup, I blame Instagram for that and nope, I'm not ashamed to admit it)
I wanted my "Down Dog" position to be a resting pose (I mean, really?!)
I wanted to know how to practice on my own
I want to help you to achieve YOUR goals
That's why I created this 28 day Core Strength program – to help you on your journey and show you step by step how to get the results you're after.
It combines my love for yoga, animal movement and handstand training. It is a combination of everything core related I learnt during my trainings with various handbalancers, gymnasts, yoga and movement teachers.
This approach helps you strengthen your core (foundation of everything) in a PLAYFUL way so you can move with confidence, better your posture and finally – BE AND FEEL strong inside and out.
I did the hard work for you..
.. It doesn't mean you won't have to work hard to achieve what you really desire, BUT you won't have to go through years of practice seeing no progress and beating yourself up for not being able to fulfill your expectations. Only because nobody showed you how to..
Our willpower generally sucks, and that's why..
I ask for only 15 minutes a day.
Yup, 15 minutes. That's it.
That's all you need for the various exercises and yoga flows in this program. You might be thinking – "too good to be true". But let me tell you, as someone who has been training for a loooong time, it is MORE THAN ENOUGH.
I get you, I also thought that without "pushing" and "long work", there will be no results.
And so I did this mistake over and over again:
I signed up for programs that required too long to complete / were boring / too challenging.
The result? I started using them and then I quit.
Because willpower by itself won't help you achieve our goals. No no no. Willpower is one big BS.
Just try to buy a chocolate bar and let it sit on the kitchen counter for a month without touching it, I DARE YOU.
What makes you stick to your goals..
.. is a structured program that you will like enough to keep coming back to and one that is kept short and sweet.
Training JUST ENOUGH is the smart way to go.
Don't Just Take My Word For It..
Here's What You'll Get in Karin Dimitrovova – THE CORE PLAY
– Download Sample files "Karin Dimitrovova – THE CORE PLAY"
Course Requirement: Karin Dimitrovova – THE CORE PLAY
Real Value: $47
One-time cost: USD 17
---
Frequently Asked Questions For "Karin Dimitrovova – THE CORE PLAY"
How to make payment for "Karin Dimitrovova – THE CORE PLAY"?
Please add to the cart on this page and go to the checkout page.

You can also add as many other products as you like and make a one-time payment.
We accept several types of Stripe payments such as Visa, Mastercard, American Express, Discover, Diners Club, Google Pay, Apple Pay, and JCB, payments from customers worldwide. Paypal & Bitcoin please contact us.
Is it safe?
100% Secure Checkout Privacy Policy
Encryption of sensitive data and communication.
All card numbers are encrypted at rest with AES-256 and transmitting card numbers runs in a separate hosting environment, and doesn't share or save any info.
How can we deliver the course?
After you pay for "Karin Dimitrovova – THE CORE PLAY" on our library, please follow the download links on your account page here: "Karin Dimitrovova – THE CORE PLAY"
In some cases, if the link is broken for any reason, our supporter will renew the download links and notify your email within a few hours of business day. Your patience is appreciated.
How long do I have access to the course?
 How does lifetime access download?
After enrolling, you have unlimited download to this "Karin Dimitrovova – THE CORE PLAY"  for as long as you like – across any and all devices you own.
How to download "Karin Dimitrovova – THE CORE PLAY"?
Enjoy "Karin Dimitrovova – THE CORE PLAY" on your account page.
Download only one file at a time. Sometimes doing all of the files at once will lead to them all freezing.
Also, please do not attempt to download to a mobile device. These should be saved to a computer and then synced to devices such as phones and tablets.
You can also learn online instead of downloading, but we encourage you to download for better results and to view quality during your learning. Lastly, download times are much quicker in the mornings, before noon, Pacific time. during download make sure your device is not sleeping off the screen.
What is the refund policy "Karin Dimitrovova – THE CORE PLAY"?
We'll Bear The Risk, You'll Take The Results…
Within 30 days of purchasing "Karin Dimitrovova – THE CORE PLAY", if you don't get anything out of the program, or if your order has any problem, or maybe for some reason, you just don't like the way it is. Please contact us and we will do our best to assist. Thank you for your understanding.
Have More Questions?
Our support staff is the best by far! please do not hesitate to contact us at email: [email protected] and we'll be happy to help!