So that you could finally start turning views into dollars and positively impacting your life and your family's life.
---
Lauren Bateman – YouTube Level Up System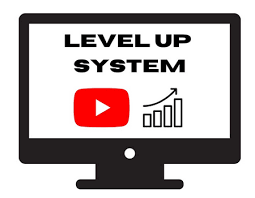 What if it didn't take you years to crack the 'Code' and make enough money to go all in on YouTube?
There's no need to waste thousands of hours scouring online tutorials for the answers to your burning questions.
There's a better way to be successful on YouTube and I want to show you the system I used to become a Full-Time YouTuber with less than 25,000 subscribers.
YES, I WANT IN!
Tell me if this sounds like you:
You are trying to grow your views and subscribers on YouTube but aren't having much success…
Maybe you are asking yourself if there is a better way to go about this that you don't know yet…
Or you're starting to see some growth on your channel but you're not clear on how to fully monetize it…
What if there was a way to….
Finally crack the code and understand how the YouTube algorithm worked…
You could make better decisions and confidently research, script and film content that would grow your views and subscribership…
So that you could finally start turning views into dollars and positively impacting your life and your family's life.
That's exactly why I created my Level Up System…
Because I want to help you finally understand how YouTube works and make the platform like you and your content.
I want you to feel confident in your content with a creative process that is designed to convert subscribers into buyers.
But most of all….
I want you to see the reward for your efforts by monetizing your channel correctly!
So if you finally want to learn the "secrets" that make YouTube rank and recommend your videos….
Buy Now For $497
2 Payments of $297
This program will help you learn…
Clarity
Instead of haphazardly uploading random videos, get crystal clear on your channel and your content strategy.
Optimization
What you NEED to know about Search Engine Optimization to promote and rank your videos and the software EVERY YouTuber needs.
Monetization
There's a better way to optimize your channel using views and subscribers to generate leads for your own products.
Creative Process
How to film and script your videos so they grow subscribership and sell courses as well as how to make thumbnails and titles that convert.
Market Research
Take a deep dive on how YOU can find and attract YOUR audience instead of hoping they randomly find you.
Right now you're struggling with…
Uploading content not knowing if it's helping or hurting your channel.
Just getting started and want to learn how to build your channel correctly right from the start.
Been on YouTube for a while and finally want to make money off the effort you're putting in.
Imagine if…
You could fully understand how the Youtube platform and algorithm worked.
When you uploaded a video, you would know with confidence that it was going to grow your subscribership, make you money, or have a better chance of getting ranked on YouTube or Google.
You could create content knowing that your efforts are not in vain and build a REAL business to take care of you and your family.
Buy Now for $497
So…why am I sharing this right now?
Hi, I'm Lauren Bateman!
You and I have a lot in common…
We're both passionate about sharing our knowledge with others.
We both want to have a larger impact on the world and the people we interact with.
We've both struggled with building a YouTube channel that wasn't seeing the results we wanted.
After 2 years of investing precious time and energy dabbling on YouTube, I finally decided to get some real help with learning what works and what doesn't work to grow my online business.
While I may have crossed the elusive 100K subscriber mark and have earned hundreds of thousands of dollars online…
I still remember very well what it was like to feel like I was getting nowhere fast with YouTube. With so many other successful YouTube channels out there, I knew there was a way to make this work. But I was a small fish in the GIANT guitar lesson ocean trying to figure out how to break through.
I invested tens of thousands of dollars and hundreds of hours on multiple courses and coaches to try and learn as much as I could about YouTube, building courses and selling online.
That's why I created the Level Up System.
Because I wanted to create a SINGLE resource that not only shows you how to rank videos and build influence on YouTube but also shows you how to REALLY monetize your YouTube channel outside of YouTube Ads.
You don't need millions or even hundreds of thousands of subscribers to go Full-Time on YouTube. What you do need is a system for finding the RIGHT subscribers that are truly interested in what you have to offer.
Video Thumbnail
"I started my YouTube page posting guitar videos but I never saw much result from it. But now I know. After going through the course, I have all the answers to all of my questions." – Craig
Here's exactly what you will get in the Level Up System
Level Up Workbook & Checklists
A printable PDF workbook along with checklists and additional resources to make sure you're taking the right steps with your channel.
New YouTubers Quick Start Guide
If you are newer to YouTube or don't have a channel yet, use this quick start guide to make sure you set your channel up correctly from the start.
Video Scripting
Learn the scripting order you should use to get more subscribers, retain your audiences attention and sell your products seamlessly.
Analytics In Depth
Learn how to analyze your videos before, during AND after you upload them to maximize view and subscribers.
6 Jam-Packed YouTube Ranking Modules
Hours of video content dedicated to finding your niche, pinpointing your target audience, ranking videos and doing SEO research the RIGHT way.
YES, I Want Access Today!
"Lauren's course is fantastic. It is laid out very well with step-by-step instruction."
I like how Lauren provides examples in her industry as well as how it applies to other industries. There are so many great content ideas to build from. I like how she is full disclosure on how the income works as well. I highly recommend this course. – Mike B
Questions your fellow creators asked before saying "yes" to the Level Up System
Will this really be worth it?

How fast can I expect to see results?

What if I am technologically challenged?

Do you have a payment plan?

How long will I have the course?

Do you offer any refunds or guarantees?

Who This Course Is For:
The Absolute Beginner
Creators new to YouTube looking to have an edge by learning the platform and starting their channel off on the right foot.
The Struggling Builder
YouTubers already on their journey that are feeling stuck, lost or ready to give up and want to make sure they are taking the right steps to grow and monetize their channel.
The Unmonetized Influencer
Creators who have grown a following of a few thousand subscribers but are interested in learning how to fully monetize their channel into a full-time income.
HERE'S HOW IT WORKS
1. Scroll down and click the blue Enroll Today button to take advantage of the presale offer.
2. Check your inbox for login information.
3. Download your PDF workbook.
4. Start growing your YouTube channel!
Enroll Today For $497
This site is not part of the Facebook website or Facebook Inc. Additionally, this site is NOT endorsed by Facebook in any way. FACEBOOK is a trademark of FACEBOOK, Inc.
Facebook provides a platform to deliver advertising but the opinions and or views expressed from Full-Time YouTubers are not representative of Facebook, Inc.
THE STORY DEPICTED ON THIS SITE AND THE PERSON DEPICTED IN THE STORY ARE NOT ACTUAL NEWS. RATHER, THIS STORY IS BASED ON THE RESULTS THAT SOME PEOPLE WHO HAVE USED THESE PRODUCTS HAVE ACHIEVED. THE RESULTS PORTRAYED IN THE STORY AND IN THE COMMENTS ARE ILLUSTRATIVE, AND MAY NOT BE THE RESULTS THAT YOU ACHIEVE WITH THESE PRODUCTS.
Here's What You'll Get in Lauren Bateman – YouTube Level Up System

– Download Sample files "Lauren Bateman – YouTube Level Up System"
Course Requirement: Lauren Bateman – YouTube Level Up System
Real Value: $497
One time cost: USD 62

---
Frequently Asked Questions For "Lauren Bateman – YouTube Level Up System"
How to make payment for "Lauren Bateman – YouTube Level Up System" ?
Please add to cart on this page and go to checkout page. 

You can also add as many other products as you like and make a one-time payment.
We accept several type of Stripe payments such as Visa, Mastercard, American Express, Discover, Diners Club, Google Pay, Apple Pay and JCB, payments from customers worldwide. Paypal & Bitcoin please contact us.
Is it safe?
100% Secure Checkout Privacy Policy
Encryption of sensitive data and communication.
All card numbers are encrypted at rest with AES-256 and transmitting card numbers runs in a separate hosting environment, and doesn't share or save any info.
How can we deliver you the course?
How long do I have access to the course?
How to download "Lauren Bateman – YouTube Level Up System"?
Enjoy "Lauren Bateman – YouTube Level Up System" in your account page.
Download only one file at a time. Sometimes doing all of the files at once will lead to them all freezing.
Also, please do not attempt to download to a mobile device. These should be saved to a computer and then synced to devices such as phones and tablets.
You can also learn online instead of downloading, but we encourage you to download for better results and viewing quality during your learn. Lastly, download times are much quicker in the mornings, before noon, Pacific time. during download make sure your device is not sleeping off screen.
What is the refund policy "Lauren Bateman – YouTube Level Up System"?
We'll Bear The Risk, You'll Take The Results…
Within 30 days of purchased |Lauren Bateman – YouTube Level Up System|, if you don't get anything out of the program, or if your order has any problem, or maybe for some reason, you just don't like the way it is. Please contact us and we will do our best to assist. Thank you for your understanding.
Have More Questions?
Our support staff is the best by far! please do not hesitate to contact us at email: [email protected] and we'll be happy to help!
You want to get "Lauren Bateman – YouTube Level Up System?!!!
YES! I'M READY TO ADD TO CART BUTTON ON THIS PAGE NOW !