This isn't just any old "content marketing." This is elevated, sophisticated, Champagne Client Content Marketing.
---
Mariah Coz – Champagne Client Content Kit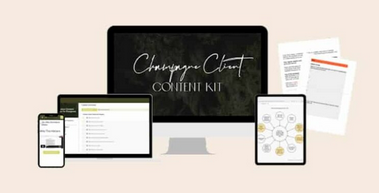 This isn't just any old "content marketing." This is elevated, sophisticated, Champagne Client Content Marketing.
These are content topics designed to convert followers and subscribers into students, clients and raving fans.
Content templates and themes specifically created to sell more courses and coaching programs – without being heavy handed or "sales-y".
I'm talking about content so good, so potent, so resonant that it leads people to your funnels, webinar registration pages and high ticket application pages in droves!
You want to create and share content that inspires, educates, provides value…and moves people to buy your courses and premium group programs!
But you don't know what to say, send, post or publish to actually get people to register for your webinars, apply for your high ticket programs, or buy your courses and coaching without sounding pushy, pitchy or sales-y.
That's where the Champagne Client Content Kit comes in!
Never get stuck staring at a blank page again. Whether you blog, podcast, make youtube videos, livestream, send emails or post on social media – we got you covered with timeless evergreen content themes that never go out of style.
People ask me every day, "Mariah, how can I share free content that inspires people to enroll in my courses and programs WITHOUT giving away all the content in my curriculum?"
This template pack and mini-course is the answer – and so much more. There is a HUGE difference between free content and paid content.
It took me years and years and lot of trial and error to nail the nuanced dance of sharing killer free content that people get tons of value from – with the "sales flair" that turns a piece of free content into a traffic-driving sales force!
"Sales flair" is that magic, almost invisible fairy dust we sprinkle on all of our content to turn free value posts into sales machines!
the 3 biggest mistakes
course creators, coaches and CEOs make with their content marketing
OVERTEACHING
You aren't differentiating between your free content and paid content, so people may tell you they LOVE your content but never buy from you! When you overteach, you're missing the opportunity to serve your best clients.
OVERTHINKING
You have no idea what content would even lead someone to your courses, programs or coaching offers so you don't post, send or say anything! You know you should be sharing valuable content but you don't have inspired ideas.
NO "SALES FLAIR"
There's a fine line between okay content that people casually tap "like" for, and content that inspires people to register for your webinars, apply for your programs and come into your world ready to buy!
Never run out of ideas for what to send, say, post or publish ever again.
No more overteaching and wondering why nobody is buying your courses or programs when you "give so much away for free".
No more overthinking every single thing you post and wondering if it will move the needle – you know these content themes and templates are proven to attract clients.
No more staring at a blank page!
Our content marketing strategy naturally, organically leads to your paid program or premium course without being heavy handed.
It's the best of both worlds: the content feels super valuable but also sells your offer through authentic storytelling!
These content marketing templates and trainings work for any platform or content format you can imagine.
These are universal, evergreen, timeless content themes and topics that work for ANY platform or form of publishing from emails to blogging to podcasting to social media and livestream videos!
You can use the topics and themes as full-length content like blogs, podcasts or videos, or apply the principles to micro-content for Reels, TikToks or Shorts. The ideas are platform agnostic!
BLOG POSTS
Create blog posts that attract traffic to your website and inspire people to learn more about your paid courses and coaching programs.
EMAILS
Write promo emails and broadcasts that speak directly to your ideal clients and resonates so deeply, it gets people clicking and applying!
SOCIAL MEDIA POSTS
Our strategy is "platform agnostic" meaning these themes work on Instagram, Facebook, LinkedIn, TikTok or whatever platform you post on.
PODCASTS
Make outlining your podcast episodes a breeze with these topics and ideas! Tell your story in an authentic way that has people asking you where they can sign up.
YOUTUBE VIDEOS
Video is one of the best ways to truly connect with your audience – combine the power of video with these irresistble content themes and topics and you've got solid gold!
LIVESTREAMS
Go live, connect with your audience, and turn those live viewers and replay lurkers into leads and sales with these powerful content ideas!
These content templates and topics are perfect for your next promotion…
Promoting a free webinar
Not sure what to say to get people signed up for your next webinar? The content themes can help you come up with ideas for emails, posts, and livestreams that inspire ideal clients to register now.
Promoting your high ticket program application
If you're promoting a mastermind, high ticket program or services application page, these content themes are designed to drive ideal clients to your offer!
Pre-launch content
Gearing up for a launch in the next month or two and want to warm up your audience now so they are begging you for the checkout link when your cart opens? You need this content strategy!
Any time you need to post something, send an email, write a blog post or record a video/podcast, you'll come back to these templates and trainings again and again!
MEET YOUR MENTOR
I've spent the last 7 years working closely with course creators, high-end coaches and CEOs on their courses, group programs, evergreen funnels, sales systems, and enrollment events.
In that time, I've worked with thousands of students and hundreds of hands-on clients, and have been lucky enough to mentor many of the top course creators and coaches on their marketing strategy.
As the seasons change, as the industry shifts, as algorithms go rogue, as circumstances continue to fluctuate day to day – we know that there are strategies and principles that remain timeless and evergreen.
Content that we published years ago continues to attract clients to our programs every day. Our emails inspire our audience to apply, enroll and tell all their friends. We've built a brand around publishing content that is highly valuable, but also highly converting!
People have been asking me for something like this for years. Until now, they ONLY way to get access to our high level content strategy was inside our premium coaching programs and masterminds.
Now, I've compiled all of my content strategy into one place – the trainings, templates, worksheets, and tools that we personally have used to grow a multi-million dollar brand online.
Can you imagine what would happen if you truly started posting, publishing content, sending emails, and showing up online
fearlessly?
The Champagne Client Content Kit is an elevated, sophisticated content marketing strategy that attracts premium clients every day.
Champagne Client
CONTENT KIT
You get instant access to everything included when you enroll today:
Champagne Clients & Our "Level 10" Content Strategy
•How we use targeted, high level content to attract clients into our world every day who are excited to invest $10k, $20k, even $50K+ into our highest level offers
•Examples of the type of content high level, decision-making clients respond to
•How to shift your mindset to attract the perfect clients with content you actually enjoy creating
The Syndication Method
•Our process for repurposing content on all platforms so that you are making the most out of every single piece of content you create
•Create mini-posts from your core content
•Share content on multiple platforms
17 Timeless, Evergreen Content Themes (Training & Google Doc)
•The content topics, themes and ideas that never go out of style, specifically designed to drive people to your courses and group coaching programs.
•Templates to help you write and create content using the topics and themes
•The content ideas work on any platform – social media, emails, blogging, podcasting, videos, etc!
Mission & Messaging Hub
•Create content that always "leads back" to your core program and course messaging
•Identify many different hooks, angles, and headlines that you can use in your ads, copy, social posts, emails, and marketing
•Apply our Champagne Client framework and outline ideas for your "Hook Hub" – a wheel of all the different angles and phrases that lead back to the core message of your program or offer.
BONUS: Pre-Launch Content Templates & Strategy
•Content topics, themes and ideas specifically designed to create hype in the weeks leading up to your next launch
•Templates to help you write and create pre-launch content
•The "Core 4" messages you want to focus on leading up to your next launch
It's your time to shine online!
Champagne Client
CONTENT KIT
Enroll Now for Just $299!
12 Months Access to the Champagne Client Content Kit through our private client portal
Champagne Client & Level 10 Content Training To Uplevel Your Content Strategy and Client Attraction
17 Timeless, Evergreen Content Topics Designed to Sell More Courses and Coaching Programs
The Syndication Method for repurposing your core content on multiple platforms
Mission & Messaging Hub Training and Worksheet
Bonus: "Core 4" Pre-launch Content Templates & Training
Instant Access so you can start implementing and applying these strategies today!
ENROLL NOW!
The Champagne Client Content Strategy will change how you think about your clients, content, and business forever!
Content Strategy specifically designed for course creators, coaches and CEOS to lead more people to their offers through authentic, organic story-based content.
Whether you're a new, aspiring, established, or advanced 6- or 7-figure coach, course creator, and CEO – you will get the inspiration, ideas and new strategies to grow your audience and attract new clients with content.
COURSE CREATORS
Stop posting awkward content that nobody engages with and start promoting your webinars, flash sales and courses with powerful content
HIGH TICKET COACHES
Get the same content topics we use every time we want to drive traffic to our application pages and high end offers.
FEARLESS CEOS
No more wondering what to say, send, post or publish – you can start building your brand fearlessly when you start sharing your message with confidence!
It's time to take inspired action, and learn the timeless, evergreen content strategy that brings ideal clients to your webinars, courses and coaching programs.
Connect with Cami, our Client Concierge and Coach, now!
As always, our client concierge and coaching team is ready to chat you up in the DMs!
Reach out today and let us know if you have any questions before enrolling. Don't be shy, we are here to support you and answer all your questions!
You can send Cami a text any time at (866) 727-3286
You can find Cami on Facebook here.
Follow and feel free to DM Cami here on Instagram.
INSTAGRAM
FACEBOOK
YOUR PURCHASE IS NON-REFUNDABLE.
There are absolutely, positively NO REFUNDS under any circumstances. Due to the instant access nature of this digital product, we will not be able to process any refunds for any reason. Make sure you understand fully: we have a strict No Refunds policy when you purchase.
YOUR SUCCESS DEPENDS ENTIRELY ON YOUR OWN EFFORT, MOTIVATION, COMMITMENT, AND FOLLOW-THROUGH. WE CANNOT PREDICT AND WE DO NOT GUARANTEE THAT YOU WILL ATTAIN A PARTICULAR RESULT, AND YOU ACCEPT AND UNDERSTAND THAT RESULTS DIFFER FOR EACH INDIVIDUAL. EACH INDIVIDUAL'S RESULTS DEPEND ON HIS OR HER UNIQUE BACKGROUND, DEDICATION, DESIRE, MOTIVATION, ACTIONS, AND NUMEROUS OTHER FACTORS. YOU FULLY AGREE THAT THERE ARE NO GUARANTEES AS TO THE SPECIFIC OUTCOME OR RESULTS YOU CAN EXPECT FROM USING THE INFORMATION YOU RECEIVE ON OR THROUGH THIS WEBSITE OR PRODUCT.
When you purchase our product, you understand that there is no guarantee that you will achieve any particular result or outcome using any of the ideas, tools, strategies or recommendations presented. We make no promises or warranties concerning your likelihood of success, performance, future earnings, business profits, marketing performance, customer growth, or results of any kind. You understand that with any business endeavor there is an inherent risk, including a loss of capital and loss of customers and therefore you assume all responsibility for any such risk.
EARNINGS DISCLAIMER. ANY EARNINGS OR INCOME STATEMENTS OR EXAMPLES SHOWN THROUGH OUR WEBSITE ARE ONLY ESTIMATES OF WHAT MIGHT BE POSSIBLE NOW OR IN THE FUTURE. THERE CAN BE NO ASSURANCE AS TO ANY PARTICULAR FINANCIAL OUTCOME BASED ON THE USE OF OUR WEBSITE. YOU AGREE THAT I AM NOT RESPONSIBLE FOR YOUR EARNINGS, THE SUCCESS OR FAILURE OF YOUR PERSONAL OR BUSINESS DECISIONS, THE INCREASE OR DECREASE OF YOUR FINANCES OR INCOME LEVEL, OR ANY OTHER RESULT OF ANY KIND THAT YOU MAY HAVE AS A RESULT OF THE INFORMATION PRESENTED TO YOU THROUGH OUR WEBSITE. YOU ARE SOLELY RESPONSIBLE FOR YOUR RESULTS.
TESTIMONIALS. I PRESENT TESTIMONIALS AND INSIGHTS ABOUT OTHER PEOPLE'S EXPERIENCES WITH MY WEBSITE FOR PURPOSES OF ILLUSTRATION ONLY. THE TESTIMONIALS, EXAMPLES, AND PHOTOS USED ARE OF ACTUAL CLIENTS. THEY ARE NOT INTENDED TO REPRESENT OR GUARANTEE THAT CURRENT OR FUTURE CLIENTS WILL ACHIEVE THE SAME OR SIMILAR RESULTS; RATHER, THESE TESTIMONIALS REPRESENT WHAT IS POSSIBLE FOR ILLUSTRATIVE PURPOSES ONLY.
We believe Black Lives Matter, we enthusiastically support LGBTQIA+ rights, we know that what makes you different is your superpower, and we celebrate and welcome all intersectional identities – from neurodivergence, to religious beliefs, to disabilities and everything in between. We actively invest in and work to build an equitable, inclusive, anti-racist company from the inside out. We believe in science. We encourage you to join our community if you share those values and want to work with a company with a dynamic, intersectionally diverse team and clients.
Here's What You'll Get in Mariah Coz – Champagne Client Content Kit
– Download Sample files "Mariah Coz – Champagne Client Content Kit"
Course Requirement: Mariah Coz – Champagne Client Content Kit
Real Value: $299
One time cost: USD 89
---
Frequently Asked Questions For "Mariah Coz – Champagne Client Content Kit"
How to make payment for "Mariah Coz – Champagne Client Content Kit" ?
Please add to cart on this page and go to checkout page. 

You can also add as many other products as you like and make a one-time payment.
We accept several type of Stripe payments such as Visa, Mastercard, American Express, Discover, Diners Club, Google Pay, Apple Pay and JCB, payments from customers worldwide. Paypal & Bitcoin please contact us.
Is it safe?
100% Secure Checkout Privacy Policy
Encryption of sensitive data and communication.
All card numbers are encrypted at rest with AES-256 and transmitting card numbers runs in a separate hosting environment, and doesn't share or save any info.
How can we deliver you the course?
How long do I have access to the course?
How to download "Mariah Coz – Champagne Client Content Kit"?
Enjoy "Mariah Coz – Champagne Client Content Kit" in your account page.
Download only one file at a time. Sometimes doing all of the files at once will lead to them all freezing.
Also, please do not attempt to download to a mobile device. These should be saved to a computer and then synced to devices such as phones and tablets.
You can also learn online instead of downloading, but we encourage you to download for better results and viewing quality during your learn. Lastly, download times are much quicker in the mornings, before noon, Pacific time. during download make sure your device is not sleeping off screen.
What is the refund policy "Mariah Coz – Champagne Client Content Kit"?
We'll Bear The Risk, You'll Take The Results…
Within 30 days of purchased |Mariah Coz – Champagne Client Content Kit|, if you don't get anything out of the program, or if your order has any problem, or maybe for some reason, you just don't like the way it is. Please contact us and we will do our best to assist. Thank you for your understanding.
Have More Questions?
Our support staff is the best by far! please do not hesitate to contact us at email: [email protected] and we'll be happy to help!
You want to get "Mariah Coz – Champagne Client Content Kit?!!!
YES! I'M READY TO ADD TO CART BUTTON ON THIS PAGE NOW !