Mike Varshavski – Professionals Media Academy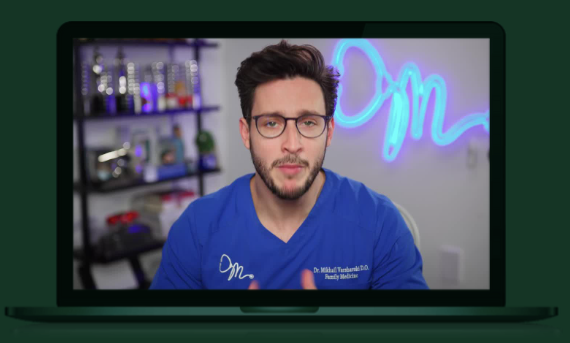 The digital age has ushered in countless opportunities, but harnessing them requires a blend of knowledge, strategy, and genuine expertise. Enter Mike Varshavski's Professionals Media Academy, a course meticulously designed for those striving to make a mark in the digital space, particularly for professionals looking to bridge their expertise with media. Here's a peek into the transformative journey you'll embark upon.
Establish Your Unique Brand:
Your media brand is the essence of your digital identity. Dr. Mike Varshavski guides you through the intricate process of brand building, ensuring that you emerge as a credible and influential voice in your field. By the end of this segment, you'll have the tools to shape public perceptions and position yourself as a go-to expert.
Master Social Media Dynamics:
The online world is vast, and navigating it requires a structured approach. Dive deep into the nuances of managing your social media, understanding platform-specific algorithms, crafting content strategies, and organically growing an engaged follower base.
Craft Engaging Content:
Quality content is the backbone of digital success. Learn the art and science of creating compelling content that resonates with your audience. From brainstorming viral content ideas to assembling a skilled content team, every aspect is covered to ensure your creations consistently garner engagement.
Decoding YouTube:
YouTube's vast user base offers unparalleled outreach potential, but breaking through the noise is no cakewalk. This module sheds light on the current algorithm intricacies, offering actionable insights to optimize your content for maximum visibility and engagement.
Harnessing Media and PR:
The traditional media world is far from obsolete. Dr. Mike elucidates techniques to attract enticing media opportunities, guiding you on how to pitch, engage, and get featured across TV, print, and radio platforms, ensuring your expertise reaches the broadest audience possible.
Monetizing Your Brand:
While passion might drive many into the media realm, sustainability is key. Understand the financial landscape of both traditional and social media. Whether it's securing lucrative sponsorships, striking brand deals, or leveraging other monetization avenues, you'll be well-prepared to turn your media endeavors into a thriving income stream.
Self-care and Longevity in Media:
Dr. Mike, with his medical background, stresses the importance of well-being. It's not just about succeeding; it's about thriving long-term. Absorb strategies and best practices to stave off burnout, ensuring you remain at the peak of your mental and physical health as you conquer the media world.
But that's not all. As an added bonus, this course unlocks the secrets of merchandise branding. Dive into the nitty-gritty of creating captivating branded merchandise, a lucrative avenue, and a brand extension, illustrated with real-world examples from the Doctor Mike team.
In essence, the Professionals Media Academy Course by Mike Varshavski is more than just a course; it's a comprehensive blueprint. 
Whether you're a seasoned professional seeking to transition into media or a budding digital enthusiast aiming to solidify your presence, this academy offers a holistic approach to mastering the world of media. 
Dive in, and let Dr. Mike guide you through the exhilarating journey of media mastery.