Nathan Brine – The Taoist Alchemy of Wang Liping: Volume Two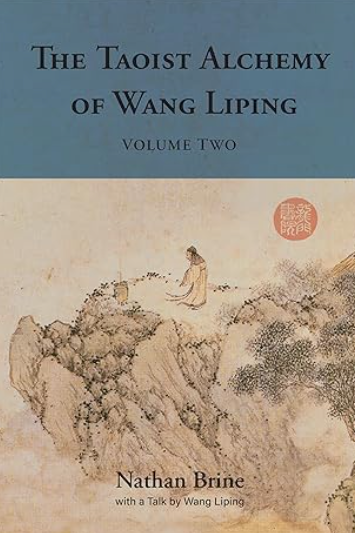 Like the legendary fish who leapt the waterfall to transform into a dragon, Taoist alchemists seek to change the self through a process of energetic refinement to become one with all that is. A balanced system of Taoist Alchemy has two sides. In one, we train the sinews, bones, blood, and qi. We become healthy. The other works with our True Nature, the innate never-changing part of us.
The first volume of this series presented how to build foundation including jing and qi. The Taoist Alchemy of Wang Liping, Volume Two goes further to introduce xinggong (inner nature) practice, clearly detailing the first four levels of theCelestial Eye curriculum, and seamlessly integrates it with internal alchemy. It also looks at the secret world of Taoist heart-to-heart transmission, along with other supplemental methods and techniques to help us enter the gateway of the sacred and experience what it is to be human.
Wang Liping is responsible for passing on the ancient knowledge of the Dragon Gate Lineage of Taoist practice, as a mentor and teacher for the next generation of students. Wang Liping's lineage is a traditional Mountain Taoist lineage. These Taoists are fully engaged in self-transformation and the pursuit of transcendence.
Born in China's northeast in 1949, Wang Liping was chosen by three masters of the Dragon Gate Lineage to become the 18th heir, holder and transmitter of the lineage. Wang Liping's arduous training was described in the book Opening the Dragon Gate: The Making of a Modern Taoist Wizard. Wang Liping began teaching publicly in 1985. Since then, he has trained many students throughout China and abroad. He continues to live in China and teach.
Nathan has been teaching Chinese internal arts for over twenty years. He began Taoist practice in 1997, immersing himself in Taoist temple arts, martial arts, meditation, internal work (neigong), energy work (qigong), and internal alchemy. For several years Nathan lived in China and trained full-time with a number of masters, as well as learning Mandarin Chinese. After China, Nathan returned to Canada to pursue academic study of Taoism, where he received a BA in Asian Languages and Culture and worked towards an MA at the University of British Columbia, extending his knowledge of Classical Chinese and the Taoist canon.
After meeting Wang Liping, Nathan left graduate school and devoted himself wholly to learning Taoist alchemy. Wang Liping authorized Nathan to teach in 2015. Nathan now leads regular workshops in Vancouver, Canada, as well as internationally.