Body weight exercise is especially appealing because the only equipment needed is a horizontal bar, or a set of handles. File Size: 164.66 MB
---
Steve Maxwell – Five Pillars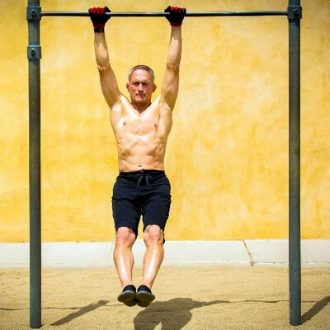 A MOVEMENT-BASED EXERCISE SYSTEM
Steve loves body weight exercise. It's the first exercise we humans ever did as children — pulling and pushing our little animal bodies. As adults, body weight is just as vital as it is for children.
Body weight exercise is especially appealing because the only equipment needed is a horizontal bar, or a set of handles.
Steve considers body weight training the simplest, most essential form of strength training, but also incredibly effective. Look at any gymnast, or go visit those locked up guys working out in the prison yards, and you can see the truth in it.
Difficulty: there are hundreds of body weight exercises. How do you select? Steve has done it for you, and his discernment comes from decades of experience in physical training. For this series, Steve has identified the biggest bang-for-the-buck body weight exercises and they are ably demonstrated by his students.
The 5-Pillars system is based upon natural, functional physical movement, not individual muscle groups. Yes, of course, each movement pattern hits the requisite muscles.
You will find the 5-Pillars body weight series especially valuable because it removes the confusing factor of What-to-Do from your workout.
Steve Maxwell clears up the confusion!
Many people find program design utterly baffling. Steve created the 5-Pillars workout system to put an end to the common training confusion.
An almost daily request Steve gets is:
Steve, I love the BW Basics series… but how do I put it together?
Admittedly, it can be perplexing.
Yet, in order to be effective, a workout program needn't be complicated. Steve asserts that sticking with the basics provides the best results.
With this in mind, Steve has categorized a simple, efficient system of exercise selection that allows the user to construct their own balanced workouts, anytime, anyplace… anywhere.
The 5-Pillars system works like this
• Select an exercise in each category, and put together your five-exercise workout, hitting all essential movement patterns with a single set of max reps for time
• Perform a single set of all-out reps for each of your five chosen exercises
• Also included are ancillary exercise options for the all-important feet, ankles, calves, hands, and neck.
The single most important factor in the 5-Pillars workout system is Time Under Load (TUL).
No muss, no fuss.
Some people might balk at single sets, and if that's you, just take a look at Mike Mentzer… or Casey Viator, and then get motivated.
In each category, there are advanced, and less-advanced options, so that even beginners can benefit from the most important body weight exercises and attain a level of mastery according to their effort.
There is plenty of variety within each category, to keep you busy for years.
Further, these exercises are classic, quintessential, and will never go out of style. Steve has not invented exercises for novelty's sake, but organized the whole for you into a concept that fits inside your pocket. In fact, in this series, Steve has shared his own prototype for program design.
Now you can work out like Steve Maxwell… without regretting it later
Who can benefit from the 5-Pillars BW video series
• Anyone who takes a vacation and needs a traveling workout
• Anyone who longs for liberation from the gym and independance from equipment
• Those people who wish to simplify their training and end their confusion about training
• Anyone with a time-crunch factor who still wants a good workout
• This series is for the beginner and advanced alike
These workouts are short, sweet, sweet, high-intensity training
Who will not benefit from the 5-Pillars BW video series:
• Those deluded by high-volume bodybuilding propaganda
• Those unable to summon the intensity to go to failure in the set under their own volition
• The weak-willed
• Time wasters
The 5-Pillars Workout System is not for those for whom exercise is an end unto itself — Steve isn't offering feats and stunts here. Herein is the finest general physical preparedness (GPP) on the market.
Here's What You'll Get in Steve Maxwell – Five Pillars

– Download Sample files "Steve Maxwell – Five Pillars"
Course Requirement: Steve Maxwell – Five Pillars
Real Value: $60
One time cost: USD 25

---
Frequently Asked Questions For "Steve Maxwell – Five Pillars"
How to make payment for "Steve Maxwell – Five Pillars" ?
Please add to cart on this page and go to checkout page. 

You can also add as many other products as you like and make a one-time payment.
We accept several type of Stripe payments such as Visa, Mastercard, American Express, Discover, Diners Club, Google Pay, Apple Pay and JCB, payments from customers worldwide. Paypal & Bitcoin please contact us.
Is it safe?
100% Secure Checkout Privacy Policy
Encryption of sensitive data and communication.
All card numbers are encrypted at rest with AES-256 and transmitting card numbers runs in a separate hosting environment, and doesn't share or save any info.
How can we deliver you the course?
After you pay for "Steve Maxwell – Five Pillars" on our library, please follow the download links in your account page here: |Steve Maxwell – Five Pillars|
In some case, the link is broken for any reason, our supporter will renew the download links and notify to your email within a few hours business day. Your patience is appreciated.
How long do I have access to the course?
 How does lifetime access download?
After enrolling, you have unlimited download to this |Steve Maxwell – Five Pillars|  for as long as you like – across any and all devices you own.
How to download "Steve Maxwell – Five Pillars"?
Enjoy "Steve Maxwell – Five Pillars" in your account page.
Download only one file at a time. Sometimes doing all of the files at once will lead to them all freezing.
Also, please do not attempt to download to a mobile device. These should be saved to a computer and then synced to devices such as phones and tablets.
You can also learn online instead of downloading, but we encourage you to download for better results and viewing quality during your learn. Lastly, download times are much quicker in the mornings, before noon, Pacific time. during download make sure your device is not sleeping off screen.
What is the refund policy "Steve Maxwell – Five Pillars"?
We'll Bear The Risk, You'll Take The Results…
Within 30 days of purchased |Steve Maxwell – Five Pillars|, if you don't get anything out of the program, or if your order has any problem, or maybe for some reason, you just don't like the way it is. Please contact us and we will do our best to assist. Thank you for your understanding.
Have More Questions?
Our support staff is the best by far! please do not hesitate to contact us at email: [email protected] and we'll be happy to help!
You want to get "Steve Maxwell – Five Pillars?!!!
YES! I'M READY TO ADD TO CART BUTTON ON THIS PAGE NOW !