Worse case scenario… you inevitably get injured, AGAIN and now you can't train at all (Like me the second time in 2012).
---
Strong As Hec – Mobility Secrets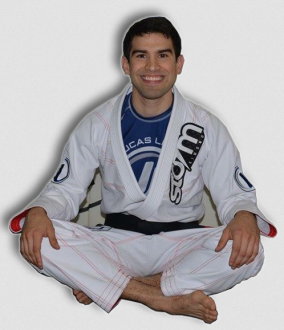 This sequencing includes:
The ability to roll from their belly to their back and their back to their belly.
Rocking back and forth on their hands and knees (posterior rocking).
Crawling and eventually pushing down to achieve their first squat.
And last but most important, standing, walking, and running.
This same sequence I witnessed my son and daughter progress through in 2011, also happens to be the same postures and movement strategies rehab professionals follow for their patients.
So, I went…
Back To The Basics
No matter what corrective exercises I tried:
Single leg balance exercises
Bosu balls
Etc… (I couldn't even do kneeling exercises because of the pain)
My knees were not improving, something was not connecting.
That's when I realized I had to go to the lowest point I could to challenge myself…
The Floor!
I literally had to learn to roll and crawl all over again as an infant.
It sounds silly, but you know what?
Things started to change.
My recovery between training sessions was improving, I was getting stronger and most of all…
The pain in my knees was subsiding.
Then, one day I was at a workshop learning all this cool stuff and the lecturer said something I'll NEVER forget
"… Movement Is A Behavior".
​Let me give you an example:
​When your child acts up and displays bad behavior do you correct it? Or do you let it continue?
You correct it of course, other wise you're re-enforcing bad behavior, right?
Right.
The same goes for how we move, if we move poorly and do not correct it, the bad behavior will only increase.
This will limit your ability to get stronger and more mobile, so you can train more Jiu-Jitsu.
Which only leads to more frustration with yourself and eventually bleeds over into your family life.
Worse case scenario… you inevitably get injured, AGAIN and now you can't train at all (Like me the second time in 2012).
Lets dive a little deeper…
If we start to load poor movements, we are only further re-enforcing this bad behavior. This is what Gray Cook calls, putting fitness on top of disfunction.
On the flip side, once we correct a movement behavior, the best way to make sure the correction sticks is to load it, through the proper progression of static and dynamic motor control followed by strength training.
Remember, movement is a behavior and you always want to reward/re-enforce good behavior by loading it with an external load and…
Kettlebells are the best tool to accomplish this.
Why?
Because the kettlebell is a live weight.
​Meaning, compared to a dumbbell or barbell, as the kettlebell goes through particular ranges of motion, the center of gravity is always changing.
​This requires your brain to send signals to your muscles to fire reflexively (i.e., without conscious thought) to stabilize the correct joints at the correct times to allow your joints to go through a full range of motion.
THIS is what makes the kettlebell superior to other tools for rehab and recovery which is why…
It's so much more than just a strength and conditioning tool.
So, you're probably wondering, Hector, how do you put all of this information together and into action?
I'm glad you asked.
Introducing Mobility Secrets!
This is the program I developed and have refined over the course of the last 10 years. It's helped me rebuild my body and rehab my knees after two [frustrating] Jiu-Jitsu injuries:
Torn left medial meniscus, 2009
Torn medial collateral ligament (MCL), 2012.
Inside I reveal the 10 Secrets to not only improving mobility and flexibility, but also to enhance your strength, performance, and recovery
… so you can train MORE Jiu-Jitsu and go on to impact more people — especially your families.
Here's what it will do for you:
Restore lost mobility and flexibility through a step-by-step progression on how-to perform each movement in the right sequence (this is the key).
Trick your mind into taking the breaks off of your muscles to allow your body to go through its natural, full ranges of motion.
Lock in new-found mobility so you don't wake up the next morning back on square one.
Save you time by removing your 20 minute foam roll session before training, and your 20 minute foam roll session after training.
Improve your sense of well-being and confidence to do the things you once did in college WITHOUT the fear of being broken the next day.
Plug-n-play; the ability to mix and match bodyweight and kettlebell exercises, making mobility and flexibility training fun again (after all, you'll only stick with something if it's enjoyable).
Improve your total body strength by restoring lost function in the shoulders, hips, and ankles, ultimately becoming bulletproof allowing you to move effortlessly on the mat and keep up with the young bucks.
Control cortisol (the stress hormone) and free radical damage by decreasing stress levels through a daily endorphin-releasing morning recharge — so you start the day right and be excited to take on your day.
Improve strength endurance, work capacity, and burn maximum calories through the integration of both bodyweight and kettlebell movement flows. ​
Recover FASTER so you can train Jiu-Jitsu again the very next day without feeling like you've been hit my a Mack truck.
And much much more…
Here's What You'll Get in Strong As Hec – Mobility Secrets
– Download Sample files "Strong As Hec – Mobility Secrets"
Course Requirement: Strong As Hec – Mobility Secrets
Real Value: $47
One time cost: USD 17
---
Frequently Asked Questions For "Strong As Hec – Mobility Secrets"
How to make payment for "Strong As Hec – Mobility Secrets" ?
Please add to cart on this page and go to checkout page. 

You can also add as many other products as you like and make a one-time payment.
We accept several type of Stripe payments such as Visa, Mastercard, American Express, Discover, Diners Club, Google Pay, Apple Pay and JCB, payments from customers worldwide. Paypal & Bitcoin please contact us.
Is it safe?
100% Secure Checkout Privacy Policy
Encryption of sensitive data and communication.
All card numbers are encrypted at rest with AES-256 and transmitting card numbers runs in a separate hosting environment, and doesn't share or save any info.
How can we deliver you the course?
After you pay for "Strong As Hec – Mobility Secrets" on our library, please follow the download links in your account page here: |Strong As Hec – Mobility Secrets|
In some case, the link is broken for any reason, our supporter will renew the download links and notify to your email within a few hours business day. Your patience is appreciated.
How long do I have access to the course?
 How does lifetime access download?
After enrolling, you have unlimited download to this |Strong As Hec – Mobility Secrets|  for as long as you like – across any and all devices you own.
How to download "Strong As Hec – Mobility Secrets"?
Enjoy "Strong As Hec – Mobility Secrets" in your account page.
Download only one file at a time. Sometimes doing all of the files at once will lead to them all freezing.
Also, please do not attempt to download to a mobile device. These should be saved to a computer and then synced to devices such as phones and tablets.
You can also learn online instead of downloading, but we encourage you to download for better results and viewing quality during your learn. Lastly, download times are much quicker in the mornings, before noon, Pacific time. during download make sure your device is not sleeping off screen.
What is the refund policy "Strong As Hec – Mobility Secrets"?
We'll Bear The Risk, You'll Take The Results…
Within 30 days of purchased |Strong As Hec – Mobility Secrets|, if you don't get anything out of the program, or if your order has any problem, or maybe for some reason, you just don't like the way it is. Please contact us and we will do our best to assist. Thank you for your understanding.
Have More Questions?
Our support staff is the best by far! please do not hesitate to contact us at email: [email protected] and we'll be happy to help!
You want to get "Strong As Hec – Mobility Secrets?!!!
YES! I'M READY TO ADD TO CART BUTTON ON THIS PAGE NOW !