Andrija Prelec – The Ultimate UI Typography Masterclass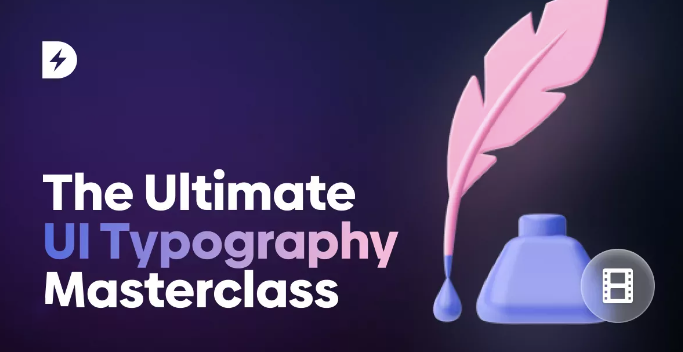 Master the most fundamental UI design skill and elevate your designs forever
Take your designs from average to stunning by enrolling in this engaging, practical, and all-inclusive video course.
It's time to learn all the secrets, feel confident in your design decisions, and become the design professional you always wanted to be!
IT'S TIME TO BE HONEST
Are your UI typography skills hurting your career?
Are you struggling with choosing fonts? Can you pair typefaces together well? Do you know how to create balanced and cohesive paragraphs?
Do type classifications confuse you? Is figuring out a typeface's personality a chore you avoid? Does typography improve or hurt your designs?
One of the easiest ways to differentiate a junior from a pro is through a quick look at their typography. If you can't fluently speak the language of type, you can't advance towards more senior positions.
Is this you? 😱
Stressingabout making typography mistakes
Working without a clear type structure in place
Unsure how to choose and pairtypefaces
Unable to articulateyour design decisions
Lackingwork opportunities and confidence
Spending hours on choosing fonts
Feeling discouragedabout your visual design skills
Feeling like an imposter
Learning from materials that miss depth, aren't practical, and focus too much on graphic design
This should be you! 🤩
Confidentin all typography decisions you made
Having an easy-to-follow, structured processin place
Choosing typefaces without breaking a sweat
Pairing typefaces in a matter of minutes, not hours
Articulating the rationale behind your design decisions with ease
Knowing how to approach the typography for any kind of design project
Getting complimentsfrom teammates and clients
Feeling empoweredabout your visual design skills
Teaching others how to improve their typography
INTRODUCING
The Ultimate UI
Typography Masterclass
It's your chance to get a hundred steps ahead of your colleagues in just 5 hours.
This UI typography video course is the most comprehensive course about typography on the market created specifically for UI designers, UX designers, and product designers.
It contains absolutely everything, and more, that designers need to know to work effectively with type. Let's start your transformation into a master of typography and a better design professional in general.
READY TO SKYROCKET YOUR UI TYPOGRAPHY SKILLS?
Get ahead of other designers by learning from the best
UI design is nothing without typography.
Typography is the backbone of everything you've created as a designer. It acts as a foundation of every UI design. It provides the structure of the entire user interface.
Mastering the UI typography skill takes years. But, with proper guidance and an expert showing you the way, you can get there so much faster – are you ready to take that step?
WHAT'S INSIDE
You need just one high-quality resource that will supercharge your UI typography skills
5 HOURS OF VIDEO CONTENT
Follow along and build enviable typography skills
40+ PRACTICAL LESSONS
Learn how to think like a senior designer and mentor
MODULE QUIZZES
Affirm your knowledge with challenging quizzes
DETAILED ASSIGNMENTS
Practice and improve skills with inspiring assignments
COMPLETION CERTIFICATE
Position yourself as a typography pro with a credible certificate
LIFETIME ACCESS
Revisit lessons with time, and get access to all future updates
PRO COMMUNITY
Encouraging, diverse, humble, and friendly design community
VALUABLE CHEAT SHEETS
Handy reminders, cheat sheets, and questionnaires
FREE BONUS RESOURCE
5-star-rated UI Typography Kit for free
IT'S MORE THAN JUST A COURSE
Say goodbye to…
…scattered resources 😖
This UI typography video course provides everything you need to master typography and become a true design professional
…imposter syndrome 🫣
Gain confidence in your design decisions and typography skills after learning by doing from a professional designer and mentor
…impractical information 🤯
Foundations are a must, but you won't be left with just theory – we put a huge accent on practical tips and UI typography skills
Hello, type mastery!
Are you ready to become irreversibly better in all aspects of your design career? Are you ready to invoke envy from other designers? Yes, you are. That's why you're here. Let's get you started!
Massive shortcut
over the majority of other designers struggling with type
Higher rates
achieve better results and designs in less time
Enviable skills
upgrade your design career and visual skills
Improved confidence
approach any kind of project with a proven system
Pure efficiency
optimized and tested approach to UI typography
Time-saving resources
advantageous bonuses, PDFs, and cheet sheats
SYLLABUS
Take a peek at the detailed list of topics included in The Ultimate UI Typography Masterclass
Module 1
Introduction
Module 2
Foundations
Module 3
Choosing Fonts
Module 4
Context and Typesetting
Module 5
Practical Typography
Module 6
Type Mastery
Module 7
Final Thoughts
REACH YOUR UI TYPOGRAPHY GOALS TODAY
Why enroll in this exact UI typography video course?
There are plenty of free and paid typography resources out there. What makes this one the best?
The Ultimate UI Typography Masterclass is based on both exhaustive research of available learning materials on the market and 10+ years of relevant industry experience.
If you are tired of low-quality, insufficient resources filled with impractical tips oriented only towards graphic design; if you're frustrated with disorganized information, lack of high-quality insights, poor teaching techniques, outdated information, no support, and no accountability – you're at the right place.
Not a single typography resource on the market takes an end-to-end approach to teaching typography. Everything from foundations to practical tips and best practices that take years to master – it's all inside!
The Ultimate UI Typography Masterclass addresses every single one of your concerns to make your learning experience an immersive and a practical one. This UI typography video course is an efficient and proven shortcut to typography mastery.
Elevate your design quality. Advance your career immensely with ease, and ultimately – earn more as an irreplaceable UX/UI designer.
Let The Ultimate UI Typography Masterclass exceed your expectations of online design education.